At 31, career minor leaguer gets ultimate reward: Playing for Israel in Olympics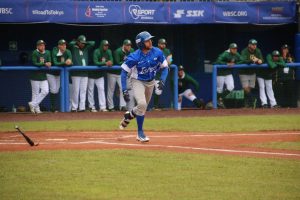 There are many terrific stories about players on the Team Israel Olympic squad, but if you like one that has an improbable feel-good finish with a touch of Hollywood-like schmaltz, it would be tough to beat Mitch Glasser's.
Glasser was a one-time 39th round pick of the White Sox, who barely got in a few games with the organization before being released. Then he spent a winter playing in Australia and numerous seasons traveling on grueling bus rides toiling in independent minor leagues. He was the verge of calling it a career not once, but several times. He appeared to destined to be like most career minor leaguers with his playing days finishing quietly without an exclamation mark.
But fate has a different ending for Glasser. At age 31, he will culminate his long run by walking into the opening ceremonies at this summer's Olympics in Tokyo as a member of the Israeli baseball team. He will be forever known as an Olympic athlete.
That is Glasser's story. Even he can't believe it.
"It's all very surreal to think I can finish my career playing for Israel in the Olympics," Glasser said.
Yet it all seemed very real recently when the Chicago-area native joined his fellow teammates for a Team Israel pre-Olympic training camp at the Arizona Diamondbacks' facility in Scottsdale. Seeing the Israel jerseys hanging in the locker room and being with all the guys was "an incredible feeling," he said.
"We have a special team," Glasser said. "We have a group of guys who have molded together really well."
Glasser, who plays second base, has since returned to Sioux Falls (S.D.), where he will continue to get ready by playing for the Canaries in the American Association of Professional Baseball League. Then in July, he will rejoin Team Israel for the trip to Tokyo, although given last year's postponement of the Olympic and the continuing uncertainty about this summer in Japan, he says, "I'll believe it when I see it."
Let's be positive for now and hope Glasser gets to complete the final leg of his baseball journey. It started when he parlayed a strong Chicago high school career by moving on to play for Macalaster College, a Division III program in St. Paul, Minn. He had a terrific run, posting a career .357 batting average. Glasser hoped it would be enough to get the attention of a Major League team during the 2012 draft.
However, Glasser began to give up hope as the draft went on, "thinking it's not going to happen." Then while taking some swings in a nearby batting cage, he got a text from a friend saying, "You got selected." And it wasn't just any team. The Sox were his favorite team.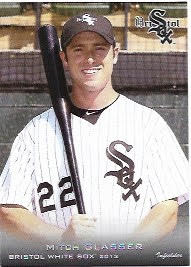 His selection did provide him with a special memory, as he was able to be part of the White Sox spring training camp in 2013. "To be able to put on the jersey of your childhood team is something I'll never forget," he said.
Glasser, though, had realistic expectations as a 39th round pick and wasn't surprised when the Sox released him. He wanted to stay in baseball and took a job as a video coordinator for the Sox's Class A team in Kannapolis, N.C., in 2014.
Then his baseball life changed again when during the season, Kannapolis' manager, Pete Rose Jr. (yes, Pete's son), approached Glasser while he was sitting in the stands with his camera.
"He said, 'What are you doing in khakis? You should be playing. You're a ballplayer,'" Glasser said.
Glasser rekindled his playing career by going to play in Australia that winter. Then he started his run in the American Association on independent minor league teams that are not affiliated with a Major League club. He had his best year in 2016 when he hit .314 for Joplin, Mo., in 2016.
During that season, Glasser received a call from Jerry Weinstein, the manager of Team Israel for the 2017 World Baseball Classic.
"Are you interested in playing for us?" Weinstein said.
Definitely, Glasser replied. "When I got that call, I thought, 'This is why I'm still playing,'" Glasser said.
However, the ending of this part of the tale wasn't completely happy. Glasser played for Israel when it qualified for the WBC during games in Brooklyn in September 2016. But he ultimately got bumped off the team when Israel added big leaguers like Ty Kelly and Sam Fuld.
"It was disappointing not to be there with the guys," he said.
His journey, appeared to be at an end when he got released by Gary (Ind.) during the 2018 season. He got picked up by Sioux Falls, and with the encouragement of his then future wife, Maggie, went there with the intent of hanging them up at the end of the year.
Then following the season, Glasser received a call from Team Israel General Manager Peter Kurz.
"He said, 'We have a dream of qualifying for 2020 Olympics. Are you in?'"
Again, Glasser said, definitely. He never thought of playing in an Olympics, let alone representing Israel. Since the Olympics require an athlete be a citizen of that respective country, he went to Israel to go through the citizen process under country's Law of Return. Then he excelled in helping Israel qualify during Olympic qualifying in Europe in September 2019. Unlike the WBC, Glasser's spot is secure this time.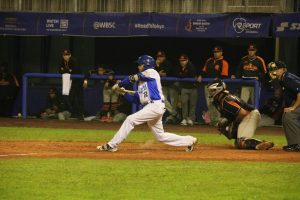 Glasser admits the notion of being an Israeli Olympic athlete is emotional.
"I always have had this love for Israel," Glasser said. "To actually become a citizen is something I'll pass on to my children. I also think of my grandparents. I would have loved if they could have seen me combine my love for Israel and baseball. To me, this is what this experience is all about."
The world is unpredictable these days, but if Glasser does get to march in the opening ceremonies under the Israeli flag, it would be the ultimate reward for a baseball lifer who has poured his heart and soul in the game.
"It's all come back full circle in my baseball career," Glasser said. "This is an opportunity I definitely didn't see coming, but it all makes sense now. Baseball is a game where you fail a whole lot. It's long bus rides and being away from your family. There are a lot of times you think, 'What the heck am I doing?' But then you look at the opportunities like this and you go, 'This is why I'm still playing.'"
*****
Check out how to join Israel's quest for Gold by becoming its "25th Man."