Final countdown: Team Israel finalizes Olympic roster; begins U.S. exhibition tour
It's getting real. Really real.
The Olympics are almost here, and Team Israel is in the U.S. getting ready for the trip to Tokyo.
Let's get everyone up to date.
Sunday, the squad kicked its U.S. exhibition tour with a 12-3 victory over FDNY in Rockland County, N.Y. Follow the tour via Team Israel's Twitter.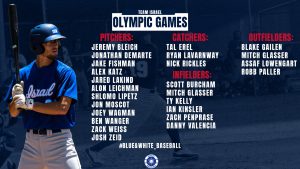 Here is Team Israel's official roster. Note: Changes can be made to the roster due to injuries up until July 27.
Pitchers: Jeremy Bleich, Jonathan deMarte, Jake Fishman, Alex Katz,
Jared Lakind, Alon Leichman, Shlomo Lipetz, Jon Moscot, Joey Wagman,
Ben Wanger, Zack Weiss, Josh Zeid.
Catchers: Tal Erel, Ryan Lavarnway, Nick Rickles.
Infielders: Scott Burcham, Ty Kelly, Ian Kinsler, Zach Penprase, Danny
Valencia.
Outfielders: Blake Gailen, Mitch Glasser, Assaf Lowengart, Robb Paller.

Really exciting to see 4-time All-Star Ian Kinsler on this list. He is one of eight players on the 24-man roster with Major League Baseball experience.
******
Much is being written about Team Israel in advance of the Olympics. The following is a collection of stories that you will give you further insights into the team:
Writing in the Times of Israel, Gabe Friedman reports on how several players have found deeper connections to their Jewish identities by playing for Team Israel. Some excerpts from the story:
Ty Kelly is one of several players with at least one Jewish parent whom Israel Baseball Association President Peter Kurz has scouted over the past decade as candidates for the team. His trip to Israel, the process of obtaining citizenship (which involves providing family history records to prove one's Jewishness) and becoming close friends with many of the Jewish players on the team have all made him feel a lot more connected to Jewish culture.
His mom's side of the family, some of whom live in Florida, has kvelled over his participation on the team.
"Getting to sort of rediscover everything and kind of get closer to Israel and to Judaism, to the Jewish people — it's been so cool," he said. "Hanging out with my mom's side of the family… everybody has stories of either Hebrew school or friends in Israel, like, 'You have to go see this person the next time you're in Israel.' … I think it's been really cool because they're all so proud of me. And [they're] so happy to have more of a tie to Israel. They're all so proud to be Jewish… I think it's very cool for them, which, in turn makes it even cooler for me."
Ian Kinsler recalled his trip to Israel.
Kinsler made it to Israel to finish the application process in March 2020 on one of the last flights allowed into the country, hours before it closed off foreign flights due to the rising spread of COVID-19. He was only there for a few days but thoroughly enjoyed the experience — photos spread on social media of the player holding a shofar like a baseball bat.
"We were up at 6 a.m., and we were going until 10 p.m. Basically the whole week. And we did everything," Kinsler said about the trip, on which he was accompanied by his wife. "We went to Jerusalem, we went to the Dead Sea… the whole experience was just eye opening and moving. And I want to get back. I want to bring my kids there."
****
Eugene Rapay of the Rockland/Westchester Journal News reports on the terrific atmosphere for Team Israel's game against the New York Boulders on Monday.
Both teams patiently waited through the two-hour rain delay before the game began, and much of the 5,000-person crowd stuck around for the first pitch while many more cars were still filing into packed parking lots.
"There was a great turnout, despite terrible rain conditions and storm warnings," Frontier League deputy commissioner Steve Tahsler said. "There's a tremendous following and interest level, so the fact that Team Israel picked the New York Boulders, a Frontier League team, to prepare for the Olympics is really just a great honor for us, and we're excited and proud to be able to host them and help them train.
"What was most amazing was an hour after the game was supposed to start, there were still cars coming in the parking lot. That just shows the dedication and passion of the people that wanted to see this game."
****
The Mainline Times (Pa.) has a terrific piece on Jake Rosenberg and how his move to Israel in 2018 eventually resulted in a trip to the Olympics. The graduate of Ithaca College went there to coach Israel's youth national teams.
"I was coaching and playing in a men's league in Israel, and my teammates told me about how they were forming a national team to try to qualify for the Olympics," said Rosenberg. "I couldn't turn down that opportunity and accepted the invite happily."
On Sept. 22, 2019, Team Israel defeated South Africa 11-1 to qualify for the Olympic baseball tournament for the first time in history. Many of Rosenberg's teammates on Team Israel were born in the United States, including former major leaguers Ian Kinsler, Danny Valencia, Ty Kelly and John Moscot.
"That qualifying game against South Africa has been the coolest experience I've had with Team Israel so far, but my favorite experience with the team was our first tournament out in Bulgaria in July of 2019," said Rosenberg. "We all met in Bulgaria for the first time as a team to play in the B pool. That was by far the most fun I have ever had playing baseball.
"My baseball experience with the Israel national team in Europe was my best baseball experience to date. I have played a lot of baseball in my life but nothing really compares to being able to put on an Israel jersey and represent the homeland. While European and American baseball are basically the same, the biggest difference I noticed is when we were playing other teams, they were all speaking in their native language – that's a different and cool experience."
****
The Forward has a story on Jon Moscot. The former Reds pitcher, who has battled injuries during his career, is thankful to be healthy going into the Olympics. From the story:
At the end of 2019, Dr. John Itamura created a 3D print model of Jon's arm that helped diagnose a unique issue and bring Jon's health to where it was before the injuries, setting him up to help the national team in ways he never thought was possible.
"I'm gonna give everything I got one last time to go out there and leave it all on the field and win this thing for our team," he said of the Summer Olympics. "Just be part of a team that now has a chance to go win a medal and do something great. It's a crazy story."
*****
Dom Izzo from Inforum has a nice piece on Zach Penprase. The 36-year old infielder is taking time off from his work in the construction business to play in the Games. From the story:
Penprase moved on from baseball. He got married and had two daughters. He was working construction with his father and coaching. But baseball never really left. In 2019 Penprase received an email from Peter Kurz, the director of the Israeli Association of Baseball, which had a simple question.
"Would you like an opportunity to play in the Olympics?" is what the email read.
High praise from one of the RedHawks favorites. Zach Penprase played eight years for the team, he still holds the franchise record for hits, runs scored and stolen bases.
"I was like, "I don't know." My wife was like, what are you talking about? After that things snapped, and I called him everyday until we figured it out."
Penprase, who's mom is Jewish was back in the batter's box.. He was in the starting lineup, playing shortstop for the baseball shocker as Israel beat South Africa in September of 2019 to qualify Israel for the Tokyo Olympics.
*****
The Times of Israel writes on Jeremy Bleich. After playing 11 years in pro baseball, which included a short two-game stint with Oakland in 2018, the 34-year old is working in the Pirates' analytics department. From the story:
Pitching for Team Israel "was a perfect match for me to stick to my roots," said Bleich, whose grandparents were Holocaust survivors. Team Israel, he added, provides a space to connect his passion for baseball with his Jewish identity, joining teammates with similar backgrounds. "Joining the Israeli Olympic team allowed me to be proud of my family and the path that my family has taken, while also playing baseball."
*****
And in case you missed it, here are our Jewishbaseballmuseum.com profiles on Mitch Glasser  and Shlomo Lipetz.