Israel baseball pioneer on pitching in Olympics: 'Fulfilling a dream I never dreamt of having'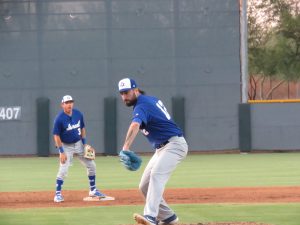 For Shlomo Lipetz, born and raised in Tel Aviv, the notion of playing baseball in the Summer Olympics for a team representing Israel sounds as ludicrous as Jamaica fielding a bobsled team in the Winter Olympics.
Wait a minute, that happened, and it will be happening for Lipetz too.
Next month, the 42-year-old will march behind the Israeli flag during the Opening Ceremonies of the Olympics in Tokyo. Lipetz will be part of a baseball team representing Israel.
Indeed, there is a "huh-what?" Jamaican bobsled-like angle to Lipetz's story. He has gone from growing up in a land that did not have a baseball field to being on the mound pitching for his home country on one of the biggest stages in sports.
Even Lipetz knows it is all hard to believe.
"I keep telling people I am fulfilling a dream I never dreamt of having," Lipetz said.
More than anyone else, Lipetz is the face of Israel baseball. He is one of 4 players who were born in Israel on the team; the remainder of the squad consists of Jewish American players who went to Israel to go through the citizen process under country's Law of Return to Team, satisfying the Olympics requirement that an athlete be a citizen of that country.
Lipetz was there from the beginning when the game spouted its early roots in Israel. Fittingly, when Israel was on the verge of clinching a spot in the Olympics in Sept., 2019, manager Eric Holtz brought in Lipetz to get the final out in an 11-1 victory over South Africa.
"There was no question that he would hold the baseball at the end of the game," Holtz said. "He's special to the team and he's special to the kids in Israel."
Lipetz's improbable baseball journey began in 1986. Since his mother is American, he went every summer to visit family in Long Island. During one of those trips, his uncle took him to Shea Stadium to see the Mets. Like most kids upon seeing a Major League field for the first time, he became hooked on baseball.
However, Lipetz wasn't most kids in getting an opportunity to play. "When I got back to Israel, I asked one of my friends, 'Have you heard of the game of baseball?'" he said. "Nobody knew what it was."
Lipetz eventually learned one of the fathers played softball, and four weeks later, 6 or 7 of his classmates went to a Tel Aviv park to throw the ball around.
"None of us knew what we were doing," he said.
It turned out there were other small pockets in Israel where baseball was being played. They all came together, and two years later, Lipetz was part of a team representing Israel in a Little League World Series qualifier in Germany. Their uniforms consisted of sweatpants, cheap T-shirts, random hats, and no cleats.
"The results were like our uniforms," said Lipetz of Israel being on the wrong end of a 51-0 loss to Saudi Arabia and a 23-1 defeat to Italy. To be fair to Israel, it should be noted that both teams had kids of Americans who were stationed in military bases in those countries.
Back in Israel, Lipetz played 6 or 7 games a year on a soccer field. He remembered once throwing on a small patch of dirt built up against an electric pole. That was their improvisation of a pitcher's mound.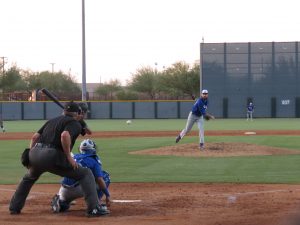 Lipetz, though, couldn't get enough, playing the game as much as he could. His dedication earned Lipetz "Outstanding Athlete" status allowing him to continue to train and compete while serving in the Israel Defense Forces.
When he fulfilled his service, Lipetz headed to San Diego to pursue his dream of playing college baseball. Full of confidence, Lipetz walked into the baseball coach's office at San Diego Mesa (Junior) College.
"I had a heavy accent and I dressed like I came out of a Tel Aviv night club," he said. "I said, 'My name is Shlomo and I want to play.' The coach looked at me said, 'Who are you?'"
Lipetz did take up the coach's offer of allowing him to throw in the bullpen. The combination of weightlifting and throwing every day for the first time saw his fastball increase from 73 miles per hour to the mid to high 80s.
That earned him a spot on the team and an eventual scholarship at UC-San Diego. Throwing sidearm as a junior, he went 6-1 and closed 27 games. A few big league teams looked at him and he even filled out a questionnaire for the San Francisco Giants. However, he was realistic and wasn't over disappointed about not getting drafted.
Lipetz then did what he always did and continued to play wherever he could, including some time in Mexico. A huge highlight came when he pitched in the Israel Baseball League in 2007.
"I thought, 'Oh, I've returned to the Promised Land,'" he said. "I went from leaving Israel when it had no fields to returning to a professional league with fans in the stands."
Unfortunately, the IBL lasted only one season. The dream, though, continued as Lipetz was part of the Israeli teams that competed in the 2013 qualifying for the World Baseball Classic and the 2017 WBC squad that stunned everyone by advancing to play in Tokyo.
"I've been spoiled in reaching a new peak, thinking that's the (ultimate) peak," Lipetz said. "And then there's something beyond that."
That something now is the Olympics. Unlike the Jamaican bobsled team that was more of a novelty that produced a fun movie (RIP John Candy), Lipetz will be playing on a team that includes 4-time All-Star Ian Kinsler and other players with big league experience. Israel is thinking big.
"We're not content in just getting there," Lipetz said.
This is a hectic time for Lipetz, to say the least. He serves as the Vice President of Programming at the City Winery in Soho in New York and books music for their seven locations. With everything re-opening again, he is being deluged with "700 emails per day."
Yet as he always had done, Lipetz is getting his work in on the mound. Even at 42, he says he feels better than he ever has. When asked if the Olympics will be his grand finale in baseball, he says, "No way."
"I'm not going to stop playing until I'm forced to," he said.
Yet no matter how long he continues to play, Lipetz will have a new legacy attached to his long record of achievements in baseball when the Games are completed in Tokyo. In the footer of email with his contact numbers and all the locations for City Winery, he lists with considerable pride, "2021 Olympian."
The dream he never dreamt is coming true.
"For me this is something I will be wearing on my chest for the rest of my life," Lipetz said. "It becomes part of who you are. You are an Olympian."
*****
Check out how to join Israel's quest for Gold by becoming its "25th Player."
You can purchase Shlomo Lipetz's Team Israel gear here: https://teamisraelbaseball.com/collections/shlomo-lipetz