No Joke: Team Israel can win a baseball medal in Olympics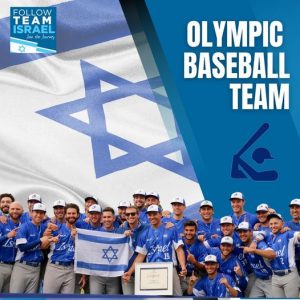 Prior to the 2017 World Baseball Classic, it became a running joke to compare Team Israel to the "Jamaican Bobsled Team." Right, they don't play baseball in Israel, just like there isn't snow within 2,000 miles of Jamaica. Ha. Ha.
But there was a difference. That Israeli team was comprised of several Jewish players with Major League experience. They weren't a crew of first-time bobsledders.
So while Team Israel was an underdog, it should not have been a complete shock that it won its first four games, which included victories over South Korea in its own home country and a win over baseball-crazy Cuba in Tokyo. Team Israel finished a respectable sixth in the tournament.
Now fast-forward four years later, and some of the same branding is taking place for Team Israel on the verge of Thursday's Olympics opener against South Korea. While the "Jamaican Bobsled" comparisons have mostly vanished, the underdog tag remains.
The other five teams competing – Japan, South Korea, Mexico, the United States and the Dominican Republic – all rank among the world's top 10. Israel ranks 24th.
Baseball America has Team Israel ranked sixth in the 6-team field. However, it did end its analysis with this kicker:
"They will be decided underdogs in the Olympics, but they've shown the ability to upset traditional baseball powers frequently over the last four years, including South Korea in the WBC."
Indeed, nobody should be surprised if Team Israel is very competitive in Tokyo and even comes away with a medal. The team is comprised of eight players with Major League experience, including 4-time All-Star Ian Kinsler and 9-year veteran Danny Valencia.
It would be a mistake to underestimate Team Israel.
"I'd rather the media push the U.S. and push Japan and put pressure on them, because that will take the pressure off us and we can just go out and do what we do," said Team Israel manager Eric Holtz on a Zoom call. "We know we are going to be playing the best of the best. But I'm not going to get worried or scared. We've got a hell of a coaching staff and a hell of a baseball team, and we'll be prepared."
Israel's roster compares favorably with that of the other five teams. Since current Major Leaguers and top Minor League prospects can't play, the Olympic teams are made up mainly of former big leaguers and long-time minor leaguers.
Among the recognizable names of former stars, Team USA's roster includes Todd Frazier, Edwin Jackson and Scott Kazmir. Adrian Gonzalez is playing for Mexico, and Melky Cabrera will represent the Dominican Republic.
Japan is the big favorite, because unlike the United States and other baseball-playing nations, it will send most of its best players to the tournament, with the exception of MLB stars such as Shohei Otani. The Japanese professional baseball league will pause to allow its best players to compete. Former Yankee Masahiro Tanaka, playing again in Japan, heads the rotation.
Here is a link to all the rosters. Take a look and see that Israel can hold its own.
Ultimately, an Olympic team's success will hinge on its depth, especially in pitching. That will put a premium on many names maybe you haven't heard of before. Former MLB pitchers Jon Moscot, Josh Zeid, Zach Weiss, among others, will be key to Israel's success.
Israel does have a huge strength that can't be measured on paper: Chemistry. Ever since the 2017 WBC and through the 2019 Olympic qualifiers in Europe, the players on this team have become extremely close. The Jewish connection also runs deep, and the fact that the American players had to make Aliyah in Israel in order to become eligible for the Olympics, served to strengthen those bonds even more.
Infielder Mitch Glasser puts it in perspective. "After going through my professional career always being the only Jew on the team, now I'm one of 24 Jewish players," he said.
Tel Aviv native Shlomo Lipetz says this is a special group.
"There is an invisible glue with everyone," said the 42-year- old pitcher. "There is this feeling of Judaism that hovers over the team. It's not a cliché. It's real."
Don't underestimate one other intangible. Team Israel knows how to win. It won its first four games in the 2017 WBC and then lost only one game in blitzing through the 2019 Europe-Africa qualifier to earn a spot in the OIympics.
Team Israel is confident its winning attitude will continue in Tokyo.
"The chemistry created on this team is unbelievable," Glasser said. "We have a group of guys who outperform the sum of their parts. In every game, we always seem to find a way to win."
Let the Games begin.