Team Israel gearing up for Summer Olympics; How you can assist as '25th Player'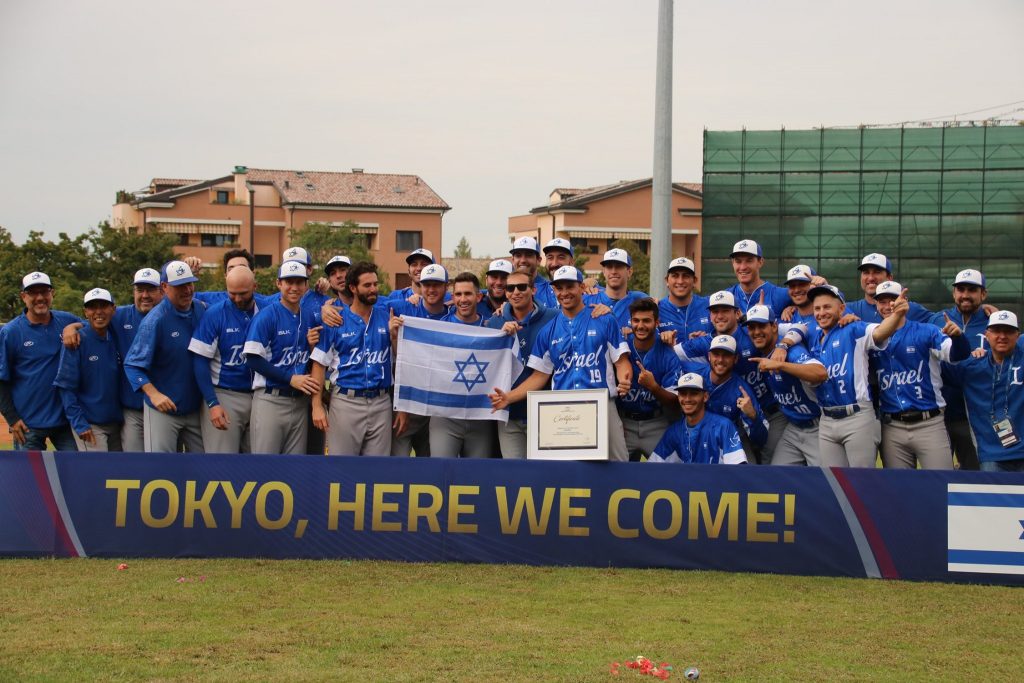 Jewishbaseballmuseum.com is proud to be working with Team Israel as it seeks the Gold in baseball at the Summer Olympics in Tokyo. Leading up to the Games, we will be sharing several of the terrific stories of this improbable quest. Our hope is that you will be as excited as we are about this latest chapter in Jewish baseball history.
Follow Team Israel on Facebook.
****
Peter Kurz is back to doing what he was doing before the world was rudely interrupted last year. The general manager of Team Israel is in 24/7 mode with preparations for the Summer Olympics.
"I'm continuing where I was in February, 2020, but now it is April, 2021," Kurz said. "Nothing happened except our guys got a year older, right?"
Indeed, plenty happened, but instead of dream denied, it merely is dream delayed for Kurz and Team Israel. In July, a baseball team representing Israel, yes Israel, will be making its bid for the gold medal in Tokyo. It also will be the first Israeli team participating in any Olympic competition since 1976.
Thankfully, it all is feeling very "real" for Kurz. The mountain of planning includes Israel doing a 5-day training camp in Arizona in May and a July barnstorming tour with games in the U.S. prior to leaving for Tokyo in July. And there's a fundraising effort that Kurz hopes includes YOU.
"When I wake up at 4 in the morning, and start thinking about all the things I need to do that day, that's how I know it is real," Kurz said.
Team Israel will be comprised of a combination of Jewish American players who have obtained Israeli citizenship and players from Israel. Since the Olympics require an athlete to be a citizen of that country, the U.S. players had to go through the citizenship process in Israel. For Israel, that means the Law of Return: having at least one Jewish grandparent or being married to a Jew: a not very simple vetting process.
Team Israel definitely will have some Major League pedigree. The list is headed by Ian Kinsler. The 4-time All-Star, who retired after the 2020 season, is thrilled to have the grand finale of his distinguished career representing Israel in the Olympics. The same holds true for Danny Valencia, a 9-year veteran in the big leagues. Catcher Ryan Lavarnway, who played a big part in Israel's successful run in the 2017 World Baseball Classic, also is expected to play depending on his status. He currently is in the Cleveland Indians organization.
The native Israeli contingent is headed by pitcher Shlomo Lipetz, one of the pioneers for baseball in Israel.
There will be 24 players for Team Israel at the Olympics. The squad is looking to add an additional symbolic member.
Team Israel has embarked on a "25th Player" campaign to help raise the necessary funds for travel, training, uniforms and more. Ideally, Kurz would like to work from a budget in the $1 million range. Since the squad is receiving limited funds from the government, Kurz hopes the Jewish community will step in as the 25th player.
"We're going to Tokyo. It's just a matter of how much we are able to do with the money we'll have," Kurz said. "We're looking at the entire Jewish community in America and Israel to come be the 25th player to support the 24 players who are going to be in Tokyo. Help support us emotionally. Help support us mentally. Help support us financially. Help support us to get there."
Check out this Youtube video from the players asking you to be the 25th Player.
Here is the link to help the cause.
In just a few weeks, Team Israel will assemble in Scottsdale for a 5-day mini-camp with the Arizona Diamondbacks providing their facility. Then from July 6-20, the Team will do their big ramp-up with a barn-storming tour of games from Hartford to Brooklyn to Bethesda, Md. The New York Boulders, an independent minor league team, have graciously donated the use of their park for training in Rockland County, N.Y.. Team Israel will play a game against the Boulders on July 12. Tickets go on sale on April 19.
Team Israel is offering major donators a Fantasy Baseball-like opportunity during this time. They will be in uniform, in the dugout, and will take batting practice. "It will a unique experience," Kurz said.
After last year's unfortunate delay, Kurz definitely senses the players' excitement building for the Olympics. Frankie Sachs has gotten an up close look as host of a series of Team Israel podcasts with the players, many of whom built deep bonds with the young Israeli players during their visits to the country.
"These guys are committed," Sachs said. "You could feel it even more when I do the podcasts. There's a strong sense of community with the baseball players here in Israel. The teenagers who play here have the ability to text the players and send them videos. It's pretty cool when a pitcher like Josh Zeid is able to give advice off a video to one of our young players."
Indeed, it all is a sharp contrast to what was going on at this time last year, which for Kurz and others, was a whole lot of nothing while sitting in quarantine at home. Kurz prefers having not enough hours in the day now.
"There's a lot on our plate," Kurz said. "There's a lot to do to get everything in place. But that's great. That's what excites us. I love it."