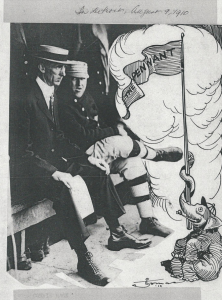 Many thanks to May Sebel for sharing this story about her grandfather.

******
My grandfather, Hyman Pearlstone, was a Texan through and through.  Born in Buffalo, Texas. in 1878, he was a successful businessman; he owned a wholesale grocery company and served on numerous corporate boards. He loved business, but he loved baseball even more.  He was one of the early subscribers to The Sporting News.
Hyman coached a local baseball team, the Palestine (Texas) Elks, but at that time had no idea what lay ahead of him in the professional baseball world.  In 1905, he traveled to New Orleans on business and was staying at the Roosevelt Hotel. The Philadelphia Athletics were also staying at the hotel and one of the players noticed that Hyman was wearing an Elks pin. He offered to introduce him to another player, also an Elk, who turned out to be Doc Powers, catcher for the team.  My grandfather invited Doc to attend the theater with him that evening.  Upon learning of my grandfather's obsession with baseball, Doc Powers told him that the A's next spring training would be in Marlin, Texas, just down the road from Palestine, and invited my grandfather to come watch the team.
At the hotel in Marlin, my grandfather, a true "baseball nut," introduced himself to Connie Mack. A deep, personal and longtime friendship began at that meeting. Following spring training, Hyman received a large box from Connie Mack.  The contents were a baseball uniform, shoes, a hat and a glove.  Better than the uniform was a note from Mr. Mack inviting Hyman to spend his summer vacations traveling with the team.
Beginning in 1906, my grandfather spent one month with the team for 45 years.  He was considered a good luck charm for the A's and had a special seat to Mr. Mack's left in the dugout. Hyman warmed up the pitchers in the morning before a game.  In 1909, the New York World Telegram published a long story calling him "America's No. 1 Baseball Fan."  Thirty years later, the Sporting News carried a feature about his unique position.
Hyman served as a scout for the team as well.  In the 1920's, my father stopped by his father in law's wholesale hardware in Dallas. (Hyman had moved his family from Palestine to Dallas in 1920).  Dad noticed a curious transaction taking place: my grandfather handed a check to a policeman.  When the policeman left, Dad asked my grandfather what that was all about.  "Well," said Hyman, "that policeman is Pinky Higgins' father. I just signed Pinky to a Philadelphia Athletics contract for $1000, but you can't say anything about it because he is still playing college ball at the University of Texas."
Hyman also discovered one of Connie Mack's pitching stars, Dave Danforth, a farm boy from Granger, TX who had pitched for the Baylor Bears. Danforth was an instant hit and Mr. Mack gave Hyman credit for the discovery in an article in the Saturday Evening Post in 1912.  After a particularly rough outing against the Chicago White Sox, Danforth came into the game and the Athletics won in the 11th inning. "Hyman," said Mr. Mack, "you've found a star."
Another story related by my father was from the time he was invited to make the summer baseball trip with my grandfather. One night they were having dinner at the Chase Hotel in St. Louis.  Ty Cobb was sitting at their table.  Hyman suggested they go out on the veranda after dinner for a little chat.  "OK," said Cobb, "if we won't talk baseball.  I want to talk business."  Hyman was business adviser to many of the ballplayers he came to know and later to their widows.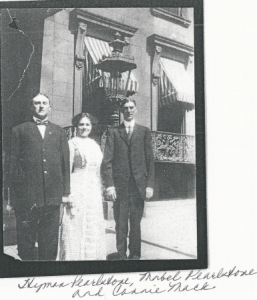 My grandmother and grandfather were guests of the Macks at every World Series, and this tradition continued even after Mack sold the team.
Upon my grandfather's death in 1966, his baseball memorabilia was sent to the National Baseball Hall of Fame in Cooperstown.   Hyman Pearlstone is the only known "civilian" to ever have traveled with a pro baseball team.  His baseball legacy has lived on through his two daughters, a son and their children, some of whom might also be called "baseball nuts."
___________________________________________________
This is an interesting story from the papers about a special baseball game in Dallas in 1950.
by Paula Bosse
On April 11, 1950, the opening-day game of the Dallas Eagles drew a record-breaking attendance of 53,578 — there were more spectators in the stands that day than had ever attended a season-opening game for any U.S. minor league team. The crowd was five times larger than could have squeezed into the Eagles' usual ballpark, Burnett Field, so the game was held in a football stadium instead: the giant Cotton Bowl. Why were so many people eager to see the Texas League matchup between the Dallas Eagles and the Tulsa Oilers? Because of these nine names:
Ty Cobb
Dizzy Dean
Mickey Cochrane
Charlie Gehringer
Tris Speaker
Duffy Lewis
Travis Jackson
Charlie Grimm
Home-Run Baker
These Major League all-star "old-timers" would be appearing at the game.
Quote from Bill Rives, Sports Editor of the Dallas Morning News: "When the immortal nine takes the field for the Dallas Eagles in the Cotton Bowl April 11, a private citizen of Dallas, sitting in the stands, will have more personal friends in the array of old-time stars than will any of the important personages present from the world of baseball.  He is Hyman Pearlstone, president of Higginbotham Pearlstone Hardware Company, and Baseball's Champion Fan."