Infielder
TEAM: Detroit Tigers
Born: July 11, 1924 - Aug. 2, 2011
After graduating from high school, Federoff served in the Air Force through the end of the Second World War. He then attended Duquesne University until signing as a second baseman with the Detroit Tigers in 1946. After years of stellar defensive play in the minors, he made his major-league debut as a pinch-runner on Sept. 27, 1951. He began the 1952 season in the minors, but returned to the big leagues after the Tigers' regular second-baseman, Jerry Priddy, broke his leg. Federoff was considered one of the fastest players in the league. When Virgil Trucks pitched a no-hitter against the New York Yankees on Aug. 25, 1952, he fielded Hank Bauer's hard-hit ground ball to turn the final out. He refused to return to Buffalo to start the 1953 season, so the Tigers sold him to the San Diego Padres of the Pacific Coast League. He never made it back to the majors. Federoff managed in the Tigers' minor-league system throughout the 1960s and famously mentored Jim Leyland, who calls him the "best manager (he) ever had."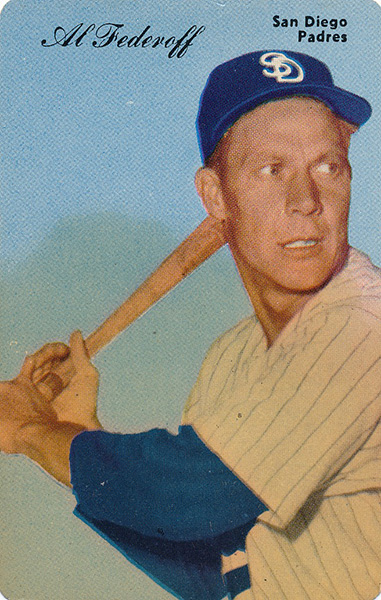 Did You Know?
Federoff told one writer researching Jewish ballplayers that his was the only Jewish family in the small town in Pennsylvania where he grew up. Some of his relatives have disputed the claim that Al was Jewish.
Related Artifacts
ADD TO OUR COLLECTION!
HAVE AN ARTIFACT & STORY TO ADD?
If you have any Jewish baseball artifacts that you would like to share, or perhaps sell, to the Jewish Baseball Museum, please contact us.
CHECK OUT OUR COLLECTION!
ORDER NOW
ORIGINAL JEWISH BASEBALL PLAYER PAINTINGS