Outfielder
TEAM: Brooklyn Robins, Philadelphia Phillies
Born: Dec. 25, 1908 - March 11, 2003
Cohen, a son of a rabbi, saw limited action over three major-league seasons, two with the Brooklyn Robins (Dodgers) and one with the Philadelphia Phillies. He had previously been an International League All-Star with the Toledo Mud Hens. Cohen enjoyed a successful business career following his retirement from baseball, having founded a successful products company and served on the board of directors of both Newark Beth Israel Medical Center and the Daughters of Israel Geriatric Center. At the time of his death in 2003, he was the oldest living member of the Brooklyn Dodgers Alumni Association.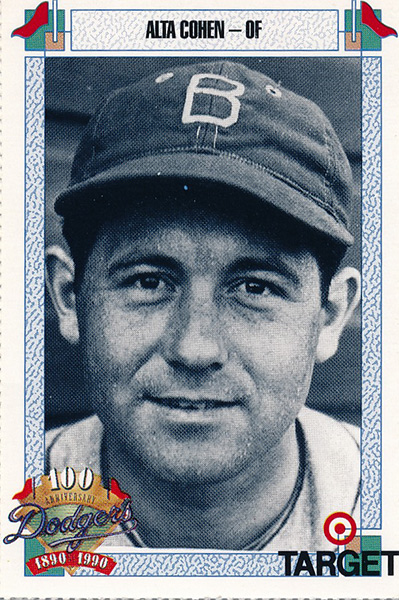 Did You Know?
In his major-league debut, Cohen collected two hits — one of them illegal. He singled and scored while batting out of turn in the sixth inning. The Boston Braves failed to notice the mistake, and Cohen singled again in his proper place in the seventh inning.
Related Artifacts
ADD TO OUR COLLECTION!
HAVE AN ARTIFACT & STORY TO ADD?
If you have any Jewish baseball artifacts that you would like to share, or perhaps sell, to the Jewish Baseball Museum, please contact us.
CHECK OUT OUR COLLECTION!
ORDER NOW
ORIGINAL JEWISH BASEBALL PLAYER PAINTINGS