Catcher
TEAM: New York Giants
Born: Sept. 6, 1911 - Nov. 29, 2004
An excellent hitter and above-average defensive catcher, Danning spent his entire career with the New York Giants. He was named to four consecutive All-Star teams from 1938 to 1941. During that span, he hit over .300 three times and finished in the top 10 in MVP voting twice. In 1939, he led all National League catchers with a .991 fielding average. He was a rookie in 1933 when the Giants won the World Series, defeating the Washington Senators in five games. He returned to the World Series in 1936 and 1937, but the Giants were defeated both times by the New York Yankees. On June 6, 1939, Danning became one of five Giants to homer in a single inning, with all home runs coming after two outs. They remain the only National League team to have ever accomplished the feat. On September 21, 1941, Danning appeared in a game in which the lineup featured an all-time record four Jews. In addition to himself, the Giants' starting nine included Harry Feldman (P), Morrie Arnovich (LF), and Sid Gordon (CF). The Giants, with their Jewish plurality, defeated the Boston Braves, 4-0. During his career, Danning was teammates with Carl Hubbell, Mel Ott, Bill Terry, and Travis Jackson, all of whom are Hall-Of-Famers. His nickname was "Harry the Horse," which was inspired by one of author Damon Runyon's famously colorful characters. Harry's older brother, Ike, played briefly for the St. Louis Browns in 1928.
Here's SABR's biography of Danning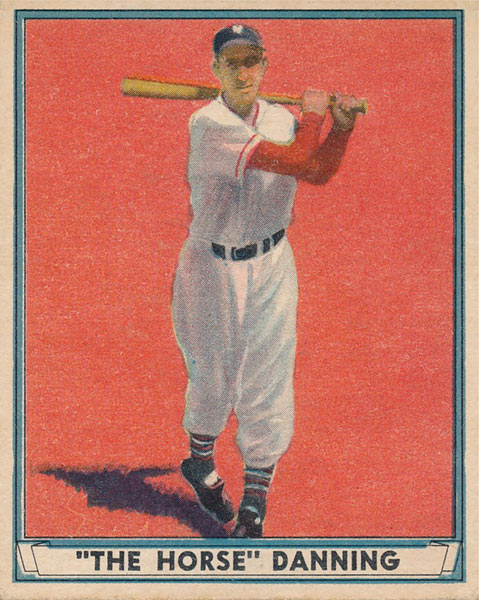 Did You Know?
On June 15, 1940, Harry hit for the cycle, and he remains the last player to have accomplished that feat by virtue of an inside-the-park home run.
ORDER NOW
ORIGINAL JEWISH BASEBALL PLAYER PAINTINGS