Pitcher
TEAM: Cleveland Indians, Houston Astros, California Angels, Chicago White Sox
Born: May 21, 1936 - April 28, 2019
Latman was raised in an observant Jewish household in Southern California and forced to take temporary leave of Little League baseball in order to prepare for his Bar Mitzvah. As a 15-year-old freshman, he won a job as a pitcher on the Fairfax High School team, where one of his teammates was future Dodgers pitcher Larry Sherry. As a senior in 1954, Latman threw the first perfect game in the Los Angeles school system in more than a decade. Though courted by several teams as a "bonus baby," he accepted a scholarship to play baseball at USC. Shortly after reaching college, however, he signed a contract with the Chicago White Sox and spent three seasons working his way through the minor-league system before making his major-league debut against the Boston Red Sox late in the 1957 season. In 1959, he was with the White Sox when they won their first pennant in 40 years, and his team ended up facing his high school teammate Larry Sherry in the World Series. As it turned out, however, Larry Sherry won two games and was named the World Series MVP, while Latman never saw any playing time. On the eve of the 1960 season, he was traded to the Cleveland Indians for Herb Score. Working mostly in relief, he began the 1961 season by winning his first nine decisions and was named to the AL All-Star team.  After the 1963 season, Latman was traded to the Los Angeles Angels for Leon Wagner, prompting his father-in-law to joke, "That's all we got for Wagner?" The press took him seriously, causing a minor sensation. Latman pitched for two years as both a starter and a reliever before being traded to the Houston Astros.
Here's SABR's biography of Latman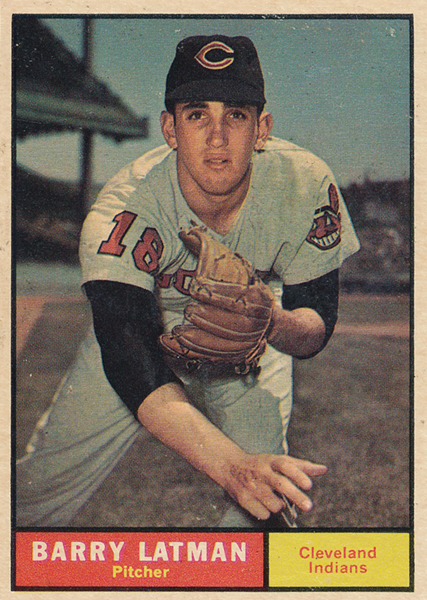 Did You Know?
Barry married Lynne Schwab, a daughter of the founder of California's famous Schwab Drug Store chain. They honeymooned in Israel.
Related Artifacts
ADD TO OUR COLLECTION!
HAVE AN ARTIFACT & STORY TO ADD?
If you have any Jewish baseball artifacts that you would like to share, or perhaps sell, to the Jewish Baseball Museum, please contact us.
CHECK OUT OUR COLLECTION!
ORDER NOW
ORIGINAL JEWISH BASEBALL PLAYER PAINTINGS