Pitcher
TEAM: San Francisco Giants, Chicago Cubs, Chicago White Sox, Baltimore Orioles
Born: July 14, 1947
Born in South Euclid, Ohio, Stone was a natural athlete. He starred on his high school baseball team, but also won several tennis championships and exceled at golf. As a pitcher at Kent State University, his battery-mate was future Yankees star Thurman Munson. He was selected by the San Francisco Giants in the fourth round of the 1969 amateur draft and enjoyed two successful seasons in the minors before making his major league debut on April 8, 1971. For the first nine seasons of his big league career he had a steady, but not spectacular career, bouncing from the Giants to the White Sox to the Cubs and back to the White Sox before signing as a free agent with the Baltimore Orioles and blossoming as a pitcher. In 1980, he went 25-7, pitched three perfect innings in the All-Star game, won the American League Cy Young Award, and finished ninth in the MVP voting. Shoulder tendinitis shortened his 1981 season and led to his retirement at the age of 34. In 1983, Stone joined Harry Caray in the Cubs' television broadcast booth, where the two called games together for 14 seasons. He declined to renew his broadcasting contract after the 2004 season, when he became deeply unpopular with the players because of critical remarks he often made about the team. Nonetheless, he remained a fan favorite. Following various broadcasting stints, he ultimately joined Ken "Hawk" Harrelson in 2008 as the television color commentator for White Sox games.
Here's SABR's biography of Stone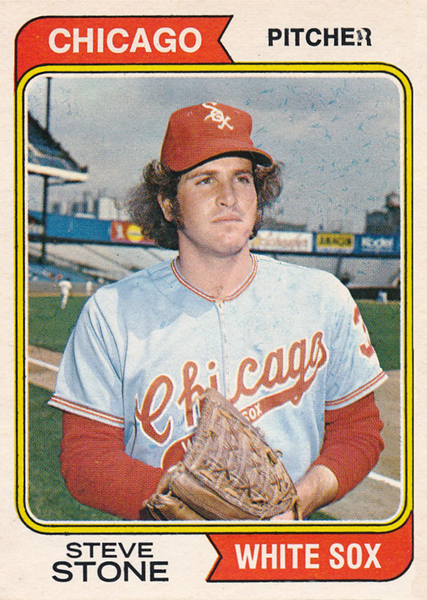 Did You Know?
Stone retired all nine batters he faced as the American League starter in the 1980 All-Star Game.
ORDER NOW
ORIGINAL JEWISH BASEBALL PLAYER PAINTINGS