Pitcher
TEAM: Brooklyn Dodgers, Los Angeles Dodgers
Born: December 30, 1935
Where to begin with Sandy Koufax? Simply, at his peak, he might have been the best pitcher in baseball history. His records tell the story. Won the 1963, 1965, and 1966 Cy Young Awards unanimously and became the first pitcher ever to become a three-time Cy Young winner. In each of his Cy Young seasons, he also won the pitching "Triple Crown" by leading the National League in wins, strikeouts, and earned run average. Three times, he won 25 or more games in a season. Also, he had an ERA under 2 in three seasons. Koufax was the first pitcher in major league history to throw four no-hitters, one of which was baseball's eighth perfect game. He ended his career with more strikeouts than innings pitched. In 1965, he posted an astounding 382 strikeouts. Only 30 when he retired because of arm issues, he became the youngest player ever to be inducted into the Hall of Fame in 1972.
Here's SABR's biography of Koufax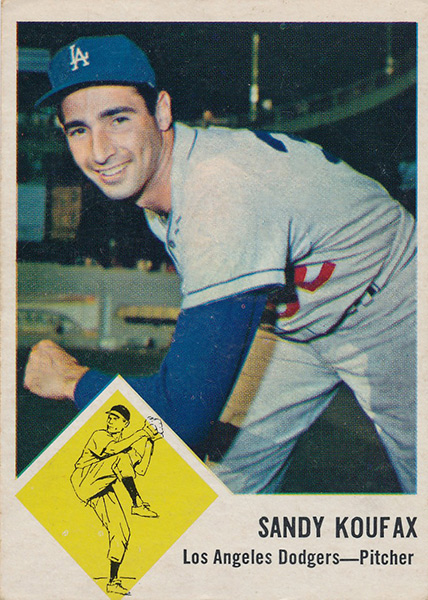 Did You Know?
Koufax had three seasons in which he recorded more than 300 strikeouts.
ORDER NOW
ORIGINAL JEWISH BASEBALL PLAYER PAINTINGS