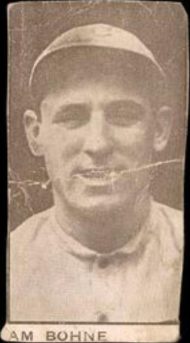 11 of the rarest Jewish Baseball cards
Every collector of Jewish baseball cards has one item they consider their "Holy Grail," the elusive card they've chased for years.
There is, however, no consensus on which is the rarest card of a Jewish baseball player.
Below, in no particular order, are 10 cards that could be considered among the toughest for Jewish collectors.
These are based on difficulty to obtain, not cost. The list only includes vintage (pre-1970) cards, not some of the current "one-of-one" issues such as those that come with autographs.
Hank Greenberg, 1934 Demaree Die-Cut
Al Demaree was a major-league pitcher from 1912-19, primarily with the New York Giants. He also was a cartoonist for daily newspapers and The Sporting News. His cartoons often featured real ballplayers.
In 1934, Demaree broke into the baseball card market. The 168-card die-cut set, catalogued as R304, featured headshots of players superimposed onto generic cartoon bodies drawn by Demaree for the Dietz Gum Company of Chicago. Tabs at the bottom of the cards could be folded to make the players stand up.
The images, approximately 1-inch wide and 6 1/2 inches tall, are printed on heavy paper rather than card stock.
In 2009, a collector found 109 copies of Demaree Die-Cuts, including many that had never been catalogued.
Dietz Gum issued a few other sets, and Greenberg also is featured in its 1936 Overland Candy wrappers. In the late 1940s, the company issued cards under the Leaf  label, named for company co-owner Sol Leaf.
Cal Abrams, 1955 Esskay Franks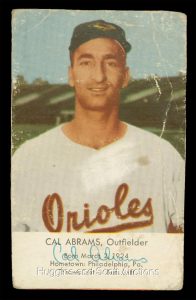 Esskay Meats of Baltimore issued 27 standard-sized, blank-backed cards of Orioles players which could be hand cut from orange packages of hot dogs.
The packages also included "Knothole Gang" coupons which could be redeemed for prizes in a catalogue.
Cards issued by meat companies often are in poor condition because of juice leaking from the meat onto the packages. The fact that the cards needed to be hand-cut from the packages also affected the condition of these cards.
Esskay also issued a set in 1954, the first year the Orioles played in Baltimore.
In 2011, one auction house sold a partial set (16 cards) for $55,000. An Abrams card in just fair condition sold for $4,750 in a 2008 auction.
Barney Pelty, 1909 H.H. Bregstone postcard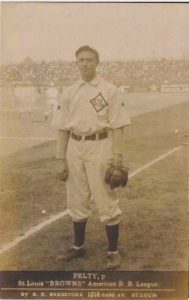 Postcards of Browns and Cardinals players were made from the work of Jewish photographer Henry "H.H." Bregstone of St. Louis. Bregstone was one of the most prolific photographers of the early 20th century.
Browns postcards are from 1909, and Cardinals images were made from 1908-11. There are 22 cards in the Brown' set and 34 in the Cardinals' set. They measure 3 1/2 by 5 1/2 inches and have standard postcard backs.
Bregstone cards are listed as "among the rarest of early 20th century baseball player postcards" in the Standard Catalog of Baseball Cards.
Another rare Pelty card is the Sporting Life cabinet card, a series of mounted photographs issued from 1902-11.
Barney Pelty, 1912 Pirate Cigarettes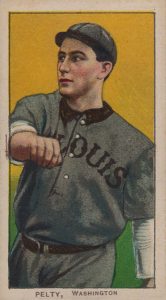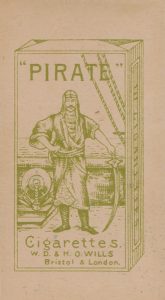 At first glance, the image on the front of the Pelty card appears identical to the one in the massive 1911 T-206 White Border cards that featured one of 16 different tobacco ads on the back. But the 1911 set listed "Pelty, St. Louis Amer." on the bottom when the pitcher was a member of the St. Louis Browns.
The Pirate Cigarette card was issued the following year when Pelty's contract was purchased by Washington. Pelty pitched the final 11 games of his career for the Senators. The text on the front reads "Pelty, Washington."
The T-206 set was issued by the American Tobacco Company of Durham, N.C., and distributed in cigarette and tobacco packages. The T-215 Pirate Cigarettes brand was issued by W.D. & H.O. Wills of Britain.
Pirate Cigarettes are among the most legendary rarities in all of card collecting. They are so rare that little is known with certainty about their distribution, but they are believed to have been issued exclusively to American and British servicemen in the South Seas. Very few of them made it back to the United States. Most of the servicemen stationed in the South Pacific were interested in a smoke break, not baseball cards.
Morrie Arnovich, 1939 Father & Son Shoes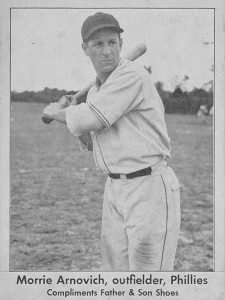 Philadelphia-area Father & Son Shoes stores distributed a scarce set of 17 blank-backed cards featuring members of the Phillies and Athletics. Cards were only distributed in the Philadelphia area, even though the chain had stores in other states.
The 3-inch by 4-inch black-and-white cards are slightly larger than today's standard size.
Al Rosen, 1951 Hage's Dairy
Hage's Dairy cards were inserted into popcorn boxes sold at San Diego Padres' Pacific Coast League games from 1949 to 1951. All of the cards featured players from the PCL.
At the end of spring training in 1951, the Cleveland Indians came to San Diego to play an exhibition series against their farm club. To commemorate the visit, Hage's issued a special subset of cards of Indians players which was available only during the weekend of the games at Lane Field.
Unfortunately, we do not have an image of the Rosen Hage's card.
Herb Karpel, 1949 Hage's Dairy
Hage's Dairy of San Diego was a manufacturer and distributor of ice cream and other dairy products. As mentioned previously, the cards were issued in popcorn boxes sold at Lane Field.
The first of three Hage's issues featured 107 cards with blank backs. They came in one of four half-tone colors (gray, sepia, blue and green).
Karpel, who pitched for the Seattle Rainiers, has only one other card that was issued while he was an active player — a 1950 Hollywood Stars team issue.
Sandy Koufax, 1967 Topps Venezuelan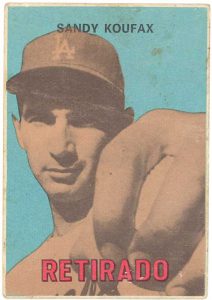 Koufax does not have his own 1967 Topps card because of his sudden retirement at the end of the previous season. The lefty does appear with other players on three 1966 National League leaders cards in the '67 set.
Topps Venezuelan sets from 1959 to 1968 were identical to the Topps cards issued in the United States, but printed on low-quality paper. They were intended exclusively for the Venezuelan market.
Three different sets were issued in 1967, with one dedicated to Venezuelan Winter League players; another to current major-league players; and the third, from which the Koufax card originates, to all-time greats.
Another rare Koufax "card" is a panel from 1964 Meadowgold Dairy milk cartons that featured Koufax, Mickey Mantle, Willie Mays and Bill Mazeroski.
Moxie Manuel, 1910 Old Mill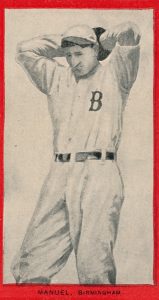 Old Mill cards were available in packs of Old Mill Cigarettes. The extensive checklist of 640 cards covers several minor-league teams from the South. The product, often called "red-border cards," is broken down into eight groups or series.
Each series covers a different league, with the final three subsets available in the lowest quantities. Manuel, who pitched for the Birmingham Barons of the Southern Association, is in the eighth and final subset.
Baseball enthusiasts are unfamiliar with most of the obscure players in the set, but a rare Joe Jackson card is in the same eighth subset as the Manuel card.
Rube Levy, 1888 S.F. Hess
No. 10 is a three-for-one from a set of a guy who never played in the major leagues.
Rube Levy played center field for the California League's San Francisco Haverlys, a team sponsored by a Bay Area men's clothing store. Home games were played on a field in the Haight-Ashbury section of San Francisco.
One pose shows him with a bat on his shoulder. Another depicts him getting ready to throw a ball.
An illustration of Levy also appears on a colorful third set of S.F. Hess cards from the same year.
The cards were sponsored by Solomon F. Hess & Company of Rochester, N.Y., maker of Creole Cigarettes.