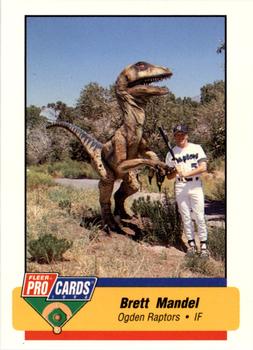 Baseball, Berg and Bar-b-que — a Father's and Son's Love of the Game
Steve Mandel has loved baseball since the early 1950s and is an avid collector of Moe Berg memorabilia.
He passed his love of baseball on to his son Brett, who played in a handful of professional games and has written two books on the sport.
"All the TV games were in black and white," said Steve, who grew up in Philadelphia as a fan of the Athletics. "One day my father took me to Shibe Park. We headed up the ramp and I saw the gorgeous green grass and the beautiful uniforms. I was hooked.
"As kids, we would go onto the field after the games, and nobody bothered us," Steve added. "I shook hands with Willie Mays and got an autograph from (former White Sox outfielder) Jim Rivera."
Steve has a vast collection of Berg items, many from the former major-league catcher's estate.
"I've got autographed baseballs, his 1934 tax return, programs from Princeton, a Brooklyn Robins program from 1923, a Christmas card signed by Berg, an 18 x 14 1933 Washington Senators photo and orders from the OSS," he said. The OSS was the Office of Strategic Services, precursor to the CIA.
Brett's favorite items in his father's collection are Berg's Princeton yearbook, an original piece of art for an award the catcher received and some receipts for the numerous newspapers he read while riding trains on team road trips.
"I began collecting antique and vintage catchers' equipment because I played the position in playground ball," Steve said. "I played and coached in men's leagues until I was 70. I spent a week in Florida at the first Phillies Fantasy Camp."
One day Steve was at a flea market and spied a book for sale about Berg. "A friend had read the book and recommended I pick it up because it was about a Jewish catcher," he said. "I had never heard of him. I began reading the book on a Sunday and skipped work Monday so I could finish it."
Steve said he enjoyed Aviva Kempner's documentary The Spy Behind Home Plate, but hated the 2018 film starring Paul Rudd. "They had to Hollywood-up a great story. Just tell his story," he said.
In 2015, Steve participated in an ESPN short about Berg called Spyball, narrated by former major-league pitcher Bill "Spaceman" Lee.
Unlike his father, Brett Mandel's contribution to baseball literature was in print media.
Brett, now 53, played infield at Northeast High School in Philadelphia and often attended the Phillies' Opening Day game. "I grew up in a time when all the Philadelphia teams were bad," he said.
After graduation from Hamilton College in upstate New York, he worked in Philadelphia city government, then decided to become a journalist.
"I went to the Phillies to flesh out some ideas about traveling with a minor-league team (as a roster player) for a year," he said. "Their take was it was not a good fit in organized ball. Every at-bat is taking away an at-bat from a prospect."
In 1994, the Ogden (Utah) Raptors of the independent rookie Pioneer League were just getting started and seeking publicity. "So they signed me to a contract, and we played in places like Great Falls, Helena and Idaho Falls," he said. "I got $15 meal money for road trips."
Brett spent the entire season with the Raptors but appeared in just four games while collecting five at-bats and one RBI.
With one game well in hand, he came up to bat in the ninth inning with a runner on third base. "I swung at a first-pitch fastball," he said. "The shortstop made the play and I was out by a step, but the runner scored."
Brett said the strangest thing that happened that year was getting thrown out of a game from the bench.
"We were riding the ump pretty bad," Brett said, "so he turns around and points to the dugout and says, 'You, you're out!' The manager asks 'Who are you throwing out?' 'Him, No. 5.' So the manager tells me, 'You've gotta go.' I was the one person the manager didn't mind getting thrown out."
Brett said it was no surprise when the Raptors didn't offer him a contract for the next season. But he had enough material for his first book — Minor Players, Minor Dreams.
"I had an agent in Ogden, but he was unable to sell the book," Brett said. "I got lots of nibbles back, and finally Nebraska Press said yes. Most publishers ask if you've been published before, so the second, third and fourth books became easier."
His second book, Is This Heaven? The Magic of the Field of Dreams, was published in 2002. It includes interviews with visitors to the mystical baseball diamond and cornfield in Dyersville, Iowa.
He followed that one up with a book on urban policy, and has another one coming out on corruption in Philadelphia.
Brett's full-time job is CEO of Baseball BBQ.
"Some buddies and I were in Arizona competing in the Over-40 World Series," he said. "We've been there every year since 2008. You have a lot of time on your hands between games. So while you're in the hot tub or drinking beer, you talk about all kinds of things.
"One player is a company patent lawyer, another guy is in marketing," he added. "We launched sales efforts in June of 2020."
The company specializes is grilling tools and cutting boards with baseball themes and sports teams' logos — major and minor league and colleges. The company also offers a variety of baseball- and BBQ-themed t-shirts and hats. You can visit the website at baseballbbq.com.
"We came out with a BBQ rub and we wanted to get it hechshered to get it certified kosher," he said. "We were at the Field of Dreams site and set up a booth. We figured there weren't too many kosher BBQ places in the country."
Not only did the trip to the Over-40 World Series lead to a new career for Brett, it brought him full circle with his father.
Steve Mandel also played in the Over-40 World Series.
"My old guys got a chance to play Dad's old guys," Brett said.