An open letter to Jewish big leaguers: Please help us expand our collection

Greetings,
As some of you know, I am passionate about being Jewish and the game of baseball. It has led to me amassing the world's largest collection of Jewish Baseball memorabilia. We have close to 5,000 items including game used items of the previous generations of Jewish players dating back to the early 1900s.
We currently have a traveling exhibit that is finishing up a year-long stint in the New York area.
Many items also are on display at JewishBaseballMuseum.com. Our website features an Online Museum that includes a Sandy Koufax game-worn jersey and a Hank Greenberg bat. Be sure to check it out.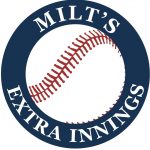 I also have some of the items on display at my kosher restaurant in Chicago, Milt's Extra Innings.
I am reaching out to the players listed below seeking a game-worn jersey or a game-used bat to add to my collection. A donation would be great, but I also am open to purchasing any item.
It has been a pleasure to get to know a few of you through the years. To all of you, we take great pride in what you have accomplished in baseball.
It would be an honor to have a baseball item from you in my collection. We plan on showcasing some of your items on our Online Museum.
Please reach out to me at jaeder@jdirealty.com.
I look forward to hearing from you.
Yours in baseball,
Jeff
****
Jeremy Bleich
Rowdie Tellez
Zach Weiss
Ryan Sherriff
Max Fried
Brad Goldberg
Ryan Lavarnway
Richard Bleier
Robert Stock
Cody Decker
Jon Moscott