Biggest All-Star snub ever: Greenberg not picked in 1935 despite record 103 RBIs at break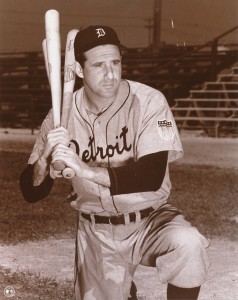 Forget the debate. There is little doubt here at JBM what ranks as the top All-Star snub of all time.
At the All-Star break in 1935, Hank Greenberg had 103 RBIs, a record that still stands 81 years later. The Tigers star also slugged 25 homers and was hitting .317.
Yet Greenberg was not selected for the American League All-Star team. The guy was averaging more than a RBI per game and he wasn't picked.
Hard to believe, right?
To make matters worse, he was snubbed by his own manager, Mickey Cochrane. Instead, Cochrane chose Lou Gehrig and Jimmy Foxx ahead of Greenberg.
Their stats weren't even close to Greenberg. Gehrig only had 11 homers and 51 RBIs at the break. Meanwhile, Foxx was at 13 homers and 50 RBIs. Foxx came into the game in a bad slump, as his average dropped from .338 on June 23 to .313.
Then to make things even more curious, Cochrane elected to start Foxx at third base, a position he rarely played. Boston manager Joe Cronin did the same thing the year before. Greenberg could have been selected as the back-up first baseman.
A couple of factors came into play:
Back then, the All-Star rosters were much smaller. Cochrane was somewhat limited on who he could pick for the bench. Starters usually played the entire game. What a novel concept.
Also, Greenberg probably lost out to Gehrig and Foxx's standing as established stars. Surely, it would be inconceivable to have an All-Star game without Gehrig, regardless of his stats. Greenberg, only 24 at the time, would have to wait his turn.
As it turns out, Greenberg's first appearance in an All-Star Game wouldn't occur until 1939. After a wrist injury sidelined him in 1936, he was selected to the AL team in 1937. However, he didn't play in the game.
Now Greenberg, a highly principled man,  was upset. When he was elected to start during his big 58-homer season in 1938, he declined the invitation.
I found a 1938 story in the Chicago Tribune that says Greenberg was excused from the game to have right wrist examined.
However, Greenberg clearly was miffed about his previous All-Star experiences. In "Hank Greenberg: The Story of My Life," he writes:
"The disappointment started in 1935, the year I drove in over 100 runs by the All-Star game and wound up with 170 for the year, and didn't get selected for the All-Star team. That annoyed me because I had established myself with two good seasons in a row, and we had won the pennant for two years straight.

"I thought to myself, What do you have to do to be selected to the American League All-Star team? I broke my wrist and was out for the 1936 season. When 1937 came along, I came up with a spectacular year. Sure enough, I was picked for the All-Star team and went to Washington for the game, but I spent it sitting on the bench. All I did was sign autographs for a day and a half. I took the hot train ride from Detroit to Washington and back again.

"That was the year that Joe McCarthy, the Yankees manager, decided to start all his Yankee players and kept them in there. McCarthy used only one pinch hitter, Jimmie Foxx. I didn't even get a chance to take a turn at bat. I was really annoyed.

"When the 1938 All-Star game came up and I was selected–even though I was having kind of a slow season–I refused to go and used those days of the All-Star break to work on my hitting."
Greenberg did decide to play in the 1939 game, where he went 1 for 3 as a starter. He only played in one other All-Star Game, going 0 for 2 as a reserve in 1940.
Given his magnitude in baseball history, it is hard to believe Greenberg saw action in only two All-Star games. Obviously, if he hadn't missed nearly five seasons during World War II, he would have been in more games.
However, considering what he did during the 1930s, Greenberg deserved better.