Journey behind Jews and Baseball painting; raffle details on how you can win prized lithograph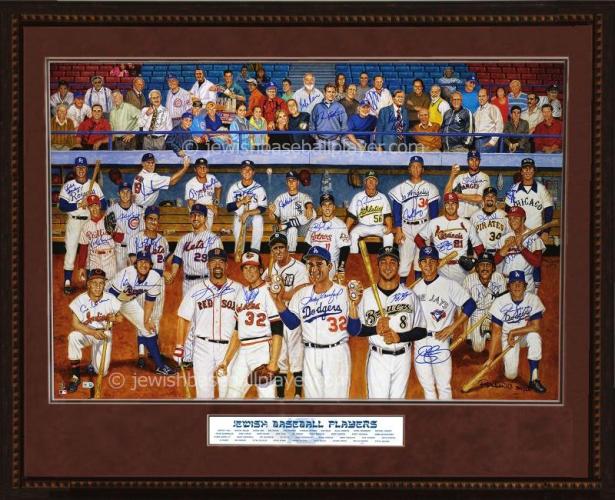 Greg Harris simply thought the timing was right.
In April, 2013, Harris, an attorney in Chicago, embarked on a special project that would combine his heritage and the game he loves. The end result is an iconic painting that celebrates multiple generations of Jews and their vast contributions to baseball.
"The timing was perfect," said Harris of his decision to start the project. "You had people like Al Rosen and Marvin Miller, who were in their late 80s and early 90s. At the same time, you had young players like Ryan Braun and Ian Kinsler who were coming into their own. It just seemed like the time to do something like this."
Now a raffle gives you a chance to win this prized lithograph. Tickets are $50 and the proceeds go to the Wolcott School in Chicago. C0-founded in 2013 by Jeff Aeder, also the founder of JewishBaseballMuseum.com, Wolcott School is a non-profit independent college preparatory high school for students with learning differences, tailored to the strengths and aspirations of each student.
Here is the link to purchase raffle tickets. The retail price of the lithograph is $6,500.
Chances are you already have seen this work of art. Harris says reprints are hanging in more than 400 synagogues, temples and Jewish facilities through the U.S.
The lithograph features the greats of the greats among Jewish baseball stars: Rosen, 1953 MVP, the most dominant pitcher of the 1960's in Sandy Koufax, 1970's and 1980's superstars including Cy Young winner Steve Stone. 1990's 30-30 club and 49-home run hitter, Shawn Green, to the active superstars of today in Braun, and  Kinsler.
The 24" x 36" limited addition work of art also showcases 9 prominent Jewish figures in baseball, such as Miller and former MLB Commissioner Bud Selig, all individually numbered 1-100, certified authentic by MLB. Each piece is originally hand autographed by 26 baseball players including Koufax and Rosen.
Harris says he faced considerable obstacles along the way. Landing a licensing deal with Major League Baseball was a big deal, he said.
However, the biggest challenge was getting Koufax, who guards his privacy, to agree to sign the painting.
"Getting Sandy was somewhat of a small miracle," Harris said. "We just knew we had to have him."
For more information on the lithograph, check out Jewishbaseballplayer.com.
Proceeds of the raffle will support a terrific cause. Four years ago, Wolcott opened in Chicago's West Town neighborhood with an ambitious goal to help students that learn differently gain self-awareness, confidence, and resilience as a well as the academic, social, and communication skills to flourish in college and beyond. Today Wolcott has 108 students and is expected to reach capacity of 150 students over the next two years. Wolcott graduated its first class in June 2016, and 100% of the graduates were accepted to college, in total 62 colleges and have been awarded over $1.7 million in merit scholarships.
In order to continue to nurture the talents of its growing student body, Wolcott has recently embarked on an exciting expansion plan, and is in the midst of a campaign to build a new Arts & Athletics Center. As Wolcott is a vital resource in Chicago, your help is greatly needed.
For more information on Wolcott School, visit wolcottschool.org.