ESPN names Koufax best lefty pitcher of all time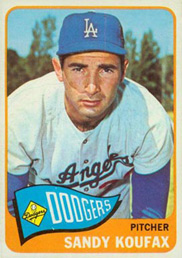 You won't get an argument from JewishBaseballMuseum.com about choosing Sandy Koufax as the best left-handed pitcher of all time–or best pitcher, period.
So it hardly is a surprise that ESPN feels the same way in designating the legendary Dodgers pitcher as the supreme southpaw.
In ESPN's view, Koufax is No. 1, followed by Randy Johnson, Clayton Kershaw, Warren Spahn and Steve Carlton. Koufax rated ahead of Johnson, Spahn, and Carlton who had much longer careers as 300-game winners.
From the story:
There is no greater peak value argument than Koufax. He didn't pitch well in Brooklyn, and before 1962 he'd led the league in strikeouts and wild pitches once apiece. Nice pitcher, but not OMG THAT'S SANDY FRICKIN' KOUFAX! That's because from 1962 through 1966 he gives us five incredible years, going 111-34 with a 1.95 ERA, striking out 27 percent of opposing hitters when that simply wasn't done, not like that, not to that extent. And then, he went away, unable to continue because of arthritis in his elbow, leaving on his terms, unblemished, unchallengeable, impossibly awesome, done at 30. No grubby comeback, no gritty rebound story, just an effortless ascension out of any understanding, having delivered a string of performances almost beyond explanation.
Indeed, no pitcher was better than Koufax over a five-year period. Yet it was a short run, and there wasn't consensus among the ESPN panel.
ESPN's David Schoenfeld made the case for Johnson.
He examined the 5-year peaks for Koufax, Johnson and Kershaw.

During Johnson's five-year stretch, he won four Cy Young Awards. Schoenfeld writes:
That's where the ERA+ figure above comes in. That number attempts to adjust for home park effects and the overall run-scoring environment of the league. So while Johnson has the highest ERA of the three, he has the best adjusted ERA (higher is better). It's close, but Koufax's domination is now put into a different perspective. Then we look at Wins Above Replacement, and Johnson's five-year total exceeds Koufax's.

Then the kicker: These aren't even the five best seasons of Johnson's career. He won four straight NL Cy Young Awards with the Diamondbacks from 1999 to 2002, but 1998 — when he was traded from the Mariners to the Astros — was a ho-hum 19-11 season with a 3.28 ERA. In 1997, he'd gone 20-4 with a 2.28 ERA. In the strike-shortened 1995 season, he went 18-2 with a 2.48 ERA.

Even if you think Koufax had the best five-year peak, how can you rank him over Johnson, who had the same or better peak and a much longer career?
Good points to be sure, but will they be talking about Johnson 50 years from now the same way they do about Koufax in 2016? Probably not.
Koufax's five-year run always stands the test of time.