Fifty years ago: Does final scouting report on Koufax provide clue on his decision to retire at 30?
Fifty years ago, Sandy Koufax walked off the mound for the last time. On Oct. 6, 1966, he was pulled after the sixth inning during Game 2 of the World Series between Baltimore and Los Angeles.
The Dodgers trailed 4-0 at the time and eventually lost 6-0. Koufax didn't get another shot in the Series as the Orioles completed a four-game sweep. His big Dodgers No. 32 would never appear in another game.
Less than two months later, Koufax stunned the baseball world by announcing his retirement at the age of 30. He had enough of pitching with the chronic pain in his left elbow.
If you are looking for hints for what also may have factored into the decision, it is most interesting to check out the Orioles scouting report on Koufax prior to that World Series. I found it at the excellent Baseball Hall of Fame site called Diamond Mines, which features a collection of scouting reports on players through the years.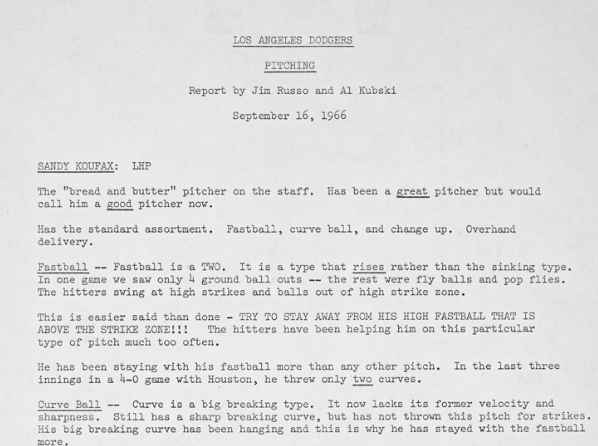 The report suggests that Koufax might have been losing his best stuff. They write, "Has been a great pitcher but would call him a good pitcher now."
Now keep in mind that Koufax went 27-9 with a 1.73 ERA in 1966. He recorded 317 strikeouts in 323 innings.
Sounds pretty great to me.
There's more. Koufax, as only he could, lifted the Dodgers to the National League pennant by recording 23 strikeouts in winning his last two starts. The last one was a gem on two-days rest in a 6-3 victory over Philadelphia and future Hall of Famer Jim Bunning. The Dodgers won the title by 1 1/2 games over San Francisco.
However, there's one more thing to consider. Jim Russo, a co-writer on the report, was a legendary scout for the Orioles. He is considered one of the all-time greats. He had a high track record for being right.
So what he and fellow scout Al Kubski filed on Sept. 16, 1966 contains some telling clues about Koufax.
Specifically, it looks as if Koufax was beginning to lose his legendary curve ball. They wrote:
"It now lacks its former velocity and sharpness. Still has his sharp breaking curve ball but has not thrown this pitch for strikes. His big breaking curve has been hanging and this is why he has stayed with his fastball more."
Throwing a curveball puts the most strain on the elbow. So it is telling that Russo notes that Koufax only threw two curves in the last three innings of the game he scouted. Perhaps throwing the curveball was getting to be too much for him?
Russo also wrote that Koufax's fastball only was a "TWO." Not exactly sure what this means, but they noted that it often rises out of the strike zone. He thought batters were helping out Koufax by swing at the high fastball that otherwise would have been balls. He implored the Orioles to lay off the high fastball.
"This is easier said than done," Russo wrote.
It is hard to say if the Orioles listened to his advice, as they only drew two walks from Koufax in Game 2. However, he hardly was dominating, as he only recorded two strikeouts, uncharacteristically low.
Koufax was the victim of bad luck on this day. With the game scoreless, centerfielder Willie Davis, who eventually won three Gold Glove awards, had nightmare issues with the sun in the fifth. He incredibly made three errors on two consecutive flyballs (dropped both and a throwing error). It led to the Dodgers scoring three unearned runs off Koufax to take a 3-0 lead.
Then in the sixth, Frank Robinson, who won the Triple Crown that year, led off with a triple and scored on a Boog Powell single. Struggling, Koufax eventually loaded the bases. However, he got out of the jam when Andy Etchebarren hit into a double play.
That would proved to be the final pitch of Koufax's career. He didn't come out for the 7th inning.
Koufax knew his career was over. On the plane back from Baltimore, he reportedly told teammates he was done.
Even if Koufax was losing the curveball, he still likely would have been a dominant pitcher for several more years. By that point, he had become savvy. He would have adjusted.
Koufax, though, knew enough was enough. And perhaps the Orioles' Russo knew it too.