First-baseman/filmmaker: Cody Decker spoofs himself with latest video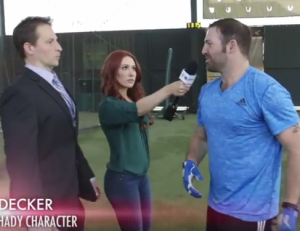 If you don't know much about Cody Decker, you will soon. He could be the game's next Bob Uecker.
Decker, 29, had been a career minor leaguer since 2009 prior to getting called up by San Diego last year. Alas, he went hitless in 11 at bats in the bigs.
Despite hitting 3 homers in spring training, the Kansas City Royals sent him back to Triple A Omaha to begin the 2016 season.
But there is much more to Decker and his story.
Above is Decker's latest video, which he unveiled with this Tweet Thursday.

Decker's video mocks an incredible gaffe he had in a minor league game. The film includes cameos from Keith Olbermann and Peter Gammons and has some entertaining ESPN spoofs. You really need to watch it.
Who is Cody Decker? Rustin Dodd of the Kansas City Star tried to explain him in a story during spring training:
It is Thursday morning in Arizona and Decker is standing inside the Royals' clubhouse, a 29-year-old non-roster invitee who joined the organization this offseason on a minor-league deal. In seven seasons of pro ball, Decker has clubbed 154 minor-league homers and staked a reputation as a useful bat. He had a cup of coffee with the San Diego Padres last October, going hitless in his first eight games. When the Royals break camp in April, he is most likely headed back to the minor leagues.
For the moment, though, he is clear about the following: He might be one of the only players in pro baseball who has earned his Screen Actors Guild card; he has enjoyed a cameo in a major NBC drama, "State of Affairs" … and he produces his own short films on the side, including one all-time prank of former Royals outfielder Jeff Francoeur.
And…
"This is what I was doing when I wasn't doing baseball stuff," Decker says. "I was at the field every day, or I was at the gym every day, and when I wasn't doing that, I was reading Stanislavski books."
After finishing his career at UCLA in 2009, Decker was selected in the 21st round by the San Diego Padres. If he sought a career in baseball, he had hope. But as he climbed the rungs of the minor leagues, he hunted acting jobs in the offseason. His talent has resulted in carnage in minor-league clubhouses.
In 2014, he spent the season with the El Paso Chihuahuas, the Padres' Class AAA affiliate. He used the first month of the season to convince Francoeur, the former Royals outfielder, that one of their teammates was deaf. The ruse lasted a month, Decker says, from spring training to the early parts of April. When it was time, he filmed and produced a short documentary in a matter of days, revealing the truth to Francoeur.
"I absolutely love him," Decker says. "He bought us all steaks the next night. I don't have a single negative thing to say about him, other than, how do you not realize your teammate's not deaf — for a month?"
Here is the link to Decker's Antiheroes Films collection.
Definitely a most interesting character. Stay tuned for more to come on Decker.