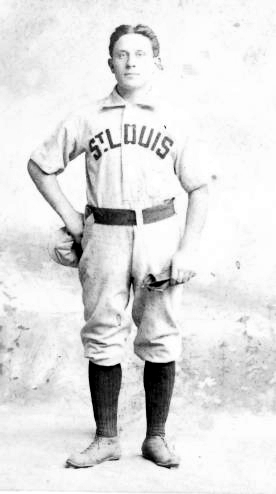 Image of 19th Century Jewish player discovered
When Jewish Major Leaguers Inc. produced its initial set of baseball cards in 2003, every known Jewish big-league player at that time was pictured on a card except for one — Ike Samuels.
Samuels played 24 games for the 1895 St. Louis Brown Stockings. There was no known existing image of Samuels. His JML card instead pictured a woodcut published in the 1896 Spalding Guide which included images of 14 Browns teammates.
Last week, Society of American Baseball Research members confirmed the existence of an image of Samuels.
Jack McKinney is a member of SABR's Pictorial History Committee. One of the group's projects is to locate photos or images of every major league player.
"Sammy 'Ike' Samuels has long been one of my white whales," McKinney told the Jewish Baseball Museum. "He was one of the few Jewish players in the 19th Century and he seems to have been something of a character."
McKinney said that a few years ago, a man named Russ Case sent him a photo from his collection that depicted an unknown member of the 1895 Browns. "I suspected it might be Samuels," he said, "since he was the only member of the team that we had no photo or known image of. But without another image to compare it to, there was no way to know for sure."
Researcher Carson Lorey found a low-resolution photo of Samuels, going by the alias of Sam Sanders, in the June 6, 1897 edition of The Fort Wayne Sunday Gazette.
The blurry photo was not helpful, but Lorey posted it to a message board, where another user located a much sharper woodcut of "Sammy" E. Samuels in the Aug, 17, 1895 edition of The Kentucky Post.
Using the woodcut, McKinney was able to properly identify the St. Louis photo as Ike Samuels.
The St. Louis photo was taken by Clara Hagins, studio photographer for the Morrison Gallery of Chicago in late 1895. Hagins is Russ Case's great aunt.
McKinney figures the photo was taken on either August 3 or 4, since Samuels was from Chicago and made his debut there on August 3. Samuels is wearing a St. Louis road uniform in the photo.
Visit Samuels' museum player page at https://jewishbaseballmuseum.com/player/ike-samuels/
Photo courtesy of RLC Protection Trust