Israel Baseball President excited about roster for World Baseball Classic; features Jason Marquis, Craig Breslow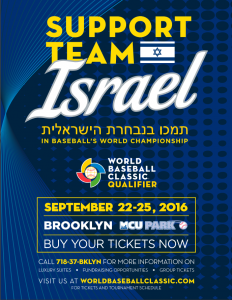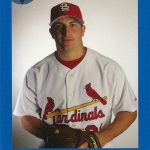 Jason Marquis pitched 15 years in the big leagues, started a World Series games, and with 124 career victories, ranks third on the all-time list for Jewish pitchers behind Ken Holtzman and Sandy Koufax.
But he never pitched for Team Israel. Until now.
The roster has been announced for Israel for the World Baseball Classic. The team will play in the qualifying rounds Sept. 22-23 in Brooklyn. Ticket info here. 
It is interesting to see Marquis' name on the list. The 38-year-old hasn't pitched in the big leagues since being released by the Reds last year. However, it appears as if he isn't done playing baseball.
"Jason pitched a few weeks ago on a team with Roger Clemens," said Peter Kurz, president of the Israel Association of Baseball. "He enjoyed himself. (Israel Manager Jerry Weinstein) asked if he was interested in playing for us, and he said OK."
Joining Marquis on Team Israel is Craig Breslow. The left-handed reliever reliever won a World Series ring with Boston in 2013.
Now Marquis and Breslow will be among the players trying to get Team Israel past the qualifying rounds and into the WBC tournament next March. Jewish Baseball News has an extensive breakdown of the roster.
Over the weekend, JBM got this assessment on the squad in a Q/A with Kurz.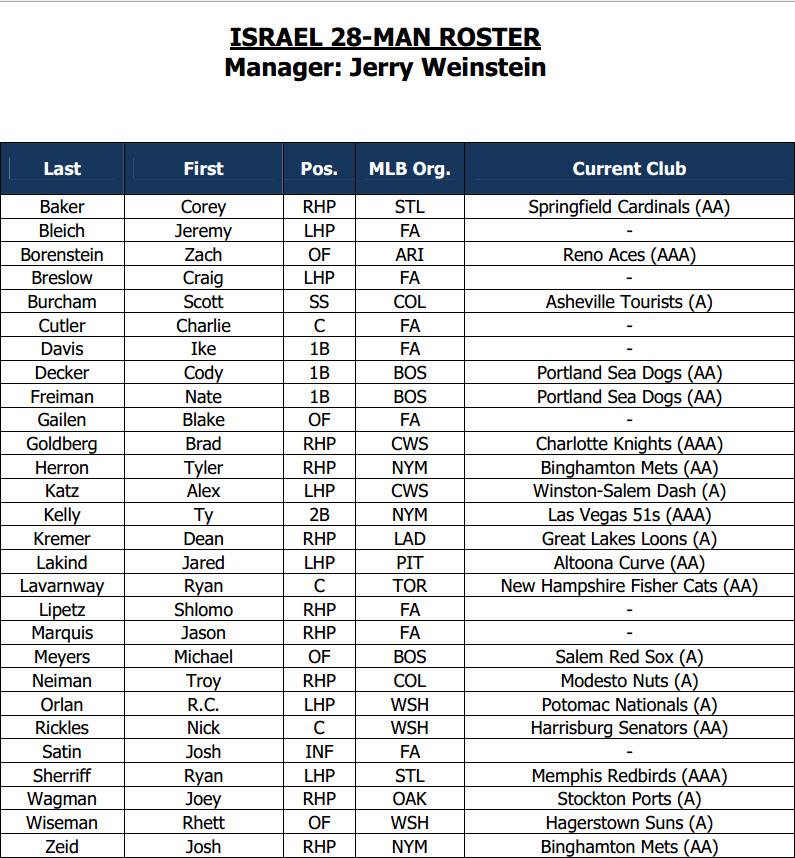 How do you feel about the make-up of the team?  
Kurz: Excellent.  We had a top notch staff working on this, including scouts and front office help from individuals with the Astros, Dodgers and Royals (all with their teams permission) – guys who either played for Team Israel in the past or were interns for our organization. Jerry did his due diligence and we began with a pool of over 90 potential players. It was hard to make the last cut down to 28, but we also have some reserves, just in case (we have a couple of guys who might have to be on paternity leave – mazel tov to them!! – and some guys might get called up).
One of the people closely involved with this team and our 2012 team said this team is much better.
We also have much higher level competition, with Brazil and Great Britain putting together great teams.
What will it mean to have a player the caliber of Jason Marquis on the team?
It is huge.  We have a few guys who have had great MLB careers – Marquis, Breslow, Ike Davis, Lavarnway, Satin. They will help to stabilize and put things in perspective for the younger players, and act as mentors for them.
Is the expectation that Marquis will start?
We have not yet decided on who the starters will be, and it all depends on how well he pitches for us in the mini-camp.  He pitched a few weeks ago on a team that Roger Clemens put together and did very well, so he still has it.
What kind of feedback did you get from the players about being able to represent Israel?
I certainly have not met most of them yet, so I will know more during the mini-camp.  But the email reactions when I wrote to them that they were selected ranged from "awesome" to "cool" to excitement to happy to represent Israel.  Some guys are a lot more tied to their Judaism and some are less so.  I think the parents in most cases were a lot more excited, but that's natural.
What does it say that several returning players want to play again?
There are 7 guys returning: Decker, Freiman, Cutler, Rickles, Zeid, Satin and Lipetz.  Without a doubt, each one in his own way feels that they left something undone 4 years ago and are now coming to finish a job.
This is what Josh Zeid wrote to me in an email: 'I feel like I have a lot of unfinished business personally with the tournament in whatever capacity you'll have me on the mound.'
And Josh Satin: 'I am planning on playing for team Israel in September as sort of my farewell tournament to my career. Looking forward to the tournament and hopefully winning it all as we should have last time.'
Who are the unsung/unknown players people should look out for?
Keep an eye on Ryan Sherriff, our own Dean Kremer (who was born in Israel), Brad Goldberg, Ty Kelly, Zach Borenstein.
Do you think Israel will have a home field advantage playing in NY? 
Are you kidding? Is the Pope Catholic?  The stadium will be rocking and rolling for Team Israel in all our games as the whole Israeli and Jewish community of the greater New York area will be there watching and rooting for us.  The Cyclones are just waiting for the school year to begin, so they can approach all the yeshivas in Brooklyn and start selling group tickets.  You should get your tickets soon, because the place will sell out very soon!