Jew power: Big year for HRs for our guys in MLB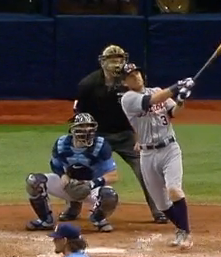 Well, that was fast. It seems like April was just yesterday.
It is time for the JBM season in review for our guys in MLB. And it was a season worth remembering.
According to our friends at Jewish Baseball News, who keep track of these things, Jewish players had their biggest power year ever, hitting 115 homers.
The surge came from veterans like Ian Kinsler and Ryan Braun, and young stars like Joc Pederson and Alex Bregman. In August, Bregman hit the 3,000th homer by a Jewish player.
So in a celebration of Jew power, here is our player-by-player breakdown:
Ian Kinsler: At the beginning of the season, we did a post saying Kevin Pillar might be the best all-around Jewish player in the big leagues. No offense to Pillar, but even he would agree that the Detroit star should wear the crown now.
Kinsler showed he has plenty of juice remaining in his now 34-year-old body. He slammed 28 homers while hitting .288 with 83 RBIs. Huge numbers for a second-baseman.  It marked the first time he hit more than 20 homers since 2011.
Even more telling, Kinsler did what lead-off men are supposed to do: Touch the plate. He recorded 117 runs scored.
Another highlight for Kinsler. He hit his 200th career homer in 2016, becoming the fifth Jewish player to eclipse that mark.
All in all, a terrific year for Kinsler.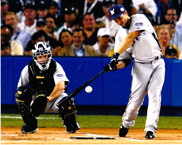 Ryan Braun: It has been a rough road for Braun in recent years. But in 2016, the Brewer displayed some of the old form that earned him the nickname of "The Hebrew Hammer."
Playing in 135 games, Braun hit .305 with 30 homers with 91 RBIs. It marked the first time he hit over .300 and slammed 30 homers since 2012. He also had an impressive OPS of .903.
Braun will be 33 at the start of next season. There was some talk that he could be traded in mid-season, but he remained in Milwaukee. It will be interesting to see if the Brewers, who are in rebuild mode, try to move him in the off-season for some prospects.
Joc Pederson: The Dodgers centerfielder showed more consistency in only his second year in the big leagues. In 137 games, he hit .246. up from .210 in 2015, with 25 homers and 68 RBIs. He reduced his strikeouts from 170 to 130, a good trend for him. He also had a nice .352 on-base percentage.
Pederson made good strides in 2016, and at only 24, he has a bright future ahead of him.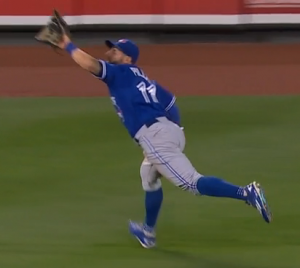 Kevin Pillar: Pillar had another solid season at the plate. He hit .266 with 7 homers and 53 RBIs. He also hit a homer in Game 2 of Toronto's series against Texas.
But his real value to Toronto is with the glove. If he isn't the best centerfielder in the game, he has to be in the top 3. He covers so much ground and routinely makes sensational catches, including this one in the AL Wildcard game Tuesday.
Chris Landers of MLB.com wrote this about Pillar:
"Over four seasons in the Major Leagues, Blue Jays center fielder and possible superhero Kevin Pillar has established a very specific reputation: If you hit a fly ball anywhere in his range (read: zip code), he will almost definitely come down with it. Even if he has to leap a tall building in a single bound."
Pillar deserves a Gold Glove, and hopefully, the voters will agree.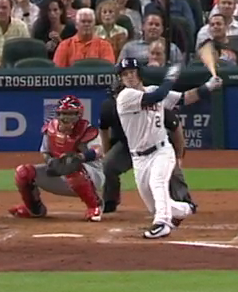 Alex Bregman: That didn't take long. Bregman went from being the No. 2 pick in the 2015 draft to making his Major League debut with Houston on July 25. After a slow start, he showed his vast potential with a power display in August, hitting 5 homers in a week.
For the year, Bregman hit .264 with 8 homers and 34 RBIs in only 49 games. It only was just the start for one of the game's most promising young players.
Danny Valencia: He made some noise on and off the field. The Oakland third-baseman had a nice year at the plate. He hit .287 with 17 homers and 51 RBIs in 130 games.
Valencia, though, made headlines for reportedly getting in a locker room brawl with teammate Billy Butler. Butler eventually apologized for provoking the fight.
Scott Feldman: The veteran pitcher played most of the season for Houston before being traded to Toronto. A valuable reliever and spot starter, he went a combined 7-4 with a 3.97 ERA in 40 appearances.
Richard Bleier: He was one of the great feel-good stories of 2016. He spent eight years in the minors before making his Major League debut at the age of 29. And with the Yankees, no less.
Bleier showed he deserved the call, recording a 1.96 ERA in 23 games in New York. That should earn him an encore for 2017.
Craig Breslow: 2016 might have marked the end of the line for the left-hander. He went 0-2 with a 4.50 ERA with the Marlins before being released in July. He then was signed by Texas, but never pitched for them, and was released.
As a result, Breslow was available to pitch for Team Israel in the World Baseball Classic Qualifier in Brooklyn in September.
Jon Moscot: It was a rough season for the Reds' big right-hander. He started only 5 games, going 0-3 with a 8.02 ERA. Then in July, he underwent Tommy John surgery, knocking him out until at least mid-season of 2017.