Milestone: Ian Kinsler becomes fifth Jewish player to hit 200 career homers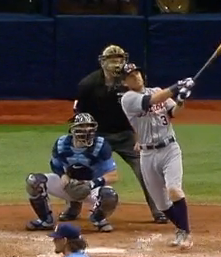 Ian Kinsler is having a huge year. And it got even better Sunday.
The second-baseman hit his 200th career homer in the ninth inning of Detroit's 3-1 victory over Tampa Bay. Watch the big moment here. And his post-game interview.
Kinsler now joins an exclusive club of Jewish players with 200 or more career homers.
The list:
Hank Greenberg, 331.
Shawn Green, 328
Ryan Braun, 268 (through Sunday)
Sid Gordon, 202
Ian Kinsler, 200 (through Sunday)
****
At age 34, Kinsler is enjoying a power surge. Through Sunday, he had 16 homers, putting him on pace to record 30 homers in a season for the first time since he hit 32 HRs with Texas in 2011.
Kinsler also is hitting .293 with 52 RBIs. All in all, the numbers figure to give him his fifth All-Star Game appearance.