Milt's Extra Innings: New Chicago restaurant serves up kosher food with side of Jewish baseball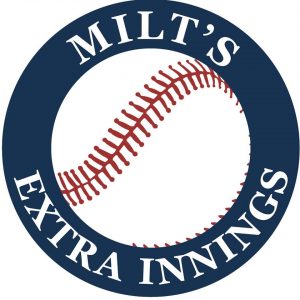 From our perspective, what could be better than Jewish baseball and delicious kosher deli style food?
Welcome to Milt's Extra Innings
Jeff Aeder, the founder of JewishBaseballMuseum.com, is opening a new Jewish Baseball-theme restaurant on Thursday, Nov. 9 in Chicago's Wrigleyville neighborhood.Milt's Extra Innings not only features excellent kosher food, but baseball fans also will want to visit to see displays telling the stories of Jews in the game. Come for a turkey sandwich, stay for some baseball history.
The restaurant features a large wallpaper timeline that tells the story of Jews in baseball, dating back to the 1860s when Lipman Pike became one of the game's first stars. The panels are divided into time periods, featuring the key figures and moments that occurred during those decades. Also, we highlighted some of our favorite quotes, including this one from Willie Stargell on Sandy Koufax: "Trying to hit him was like trying to drink coffee with a fork."
The timeline truly is a unique perspective on Jews and baseball.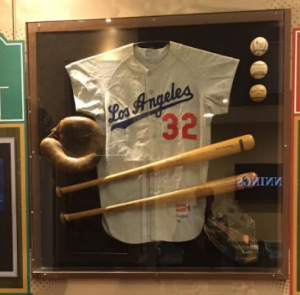 Then there are the artifacts on display from Aeder's collection. The highlight is Sandy Koufax's game-worn Dodgers road jersey from the 1963 season. Think about the history he made in that jersey during a 25-5 season in which he was the National League and World Series MVP. It is a stunning piece.
Another jersey of Chicago interest is one worn by Steve Stone when he was with the Baltimore Orioles.
There are game-used bats from Hank Greenberg, Al Rosen, and Alex Bregman; a 1950 Indians hat worn by Rosen; cleats worn by Shawn Green and Ruben Amaro Jr.;classic photographs of Jewish figures in baseball history; and more.
And be sure to stop for a few minutes to watch videos featuring highlights of Jewish players, and Jewish comedians giving their take on baseball.
Milt's Extra Innings is next to Aeder's popular restaurant, Milt's Barbecue for the Perplexed. Extra Innings has seating in the restaurant, or you can take orders to go. 
And Extra Innings isn't just for customers who live nearby. Aeder said the restaurant will use volunteer drivers for delivery service for Shabbat dinners and will have catering for Kiddushes.
Like Milt's Barbeque for the Perplexed, all the profits from Milt's Extra Innings will be donated to charity. There also is another terrific community-focused element.
For several years, Milt's Barbecue in Chicago has been a proud employer of individuals with disabilities from Keshet's GADOL program. GADOL team members play a vital role at the restaurant, preparing the business for its opening each day.
Now, with the opening of Milt's Extra Innings, the business has expanded its commitment to building an inclusive community by employing individuals with disabilities to work the new venture's counters, check out, and kitchen.
Extra Innings will offers these individuals a wonderful chance to work, enriching their lives and hopefully the customers who interact with them.
Here is a Q/A with Jeff: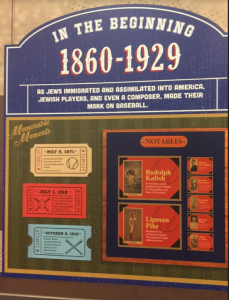 What was behind your desire to do a Jewish-baseball themed restaurant?
When we were considering doing the restaurant, I thought, let's bring in another one of my passions: Jewish baseball.
We spent a great deal of effort with designs for a Jewish Baseball Museum. Ultimately, we had some logistic issues that make difficult to do at this time. However, we have had a lot of success with our online Jewish baseball site. I thought, let's take the Timeline that runs on the site and put it on the wall of restaurant. It went from there. This restaurant allows us to do a smaller version of the museum.
Why do you have such a passion for Jews in baseball?
It's a combination of a few different things. I love history. I love the history of Jews in America, and I love the history of baseball. When you combine everything, it tells the great story of Jews in baseball. The 170 Jewish players, with the exception of a few blemishes, include some real characters and mensches. Their stories are very relevant at this time of Jews in America.
The Koufax jersey is a real show-stopper. What is the story behind that?
It is one of only a few away jerseys from the 1963 season. That was arguably his greatest year. He dominated during the regular season, and then set a then World Series record when he had 15 strikeouts against the Yankees in Game 1. They didn't have a chance. You look at the jersey, and you try to imagine all the feats he accomplished while wearing it.
What is behind your decision to involve employees with intellectual and developmental disabilities?
It's the continuation of the Jewish ethos of making the world a little better–and rooting for the underdog. This is about our belief in giving back. Two-thirds of intellectually disabled people are unemployed. Nobody wants to sit home and do nothing. They want to work. Our customers will be able to interact and see them in a different light. That's really a gift.
We want Milt's Extra Innings to be a restaurant that will make everyone proud.