Milt's, JBM founder gets special gift from Cubs Matt Szczur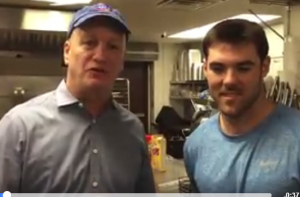 Even though Cubs reserve outfielder Matt Szczur didn't make the roster, he is making his presence felt during the postseason.
Anthony Rizzo came out of his slump when he decided to use one of Szczur's bats. Addison Russell had the same result after borrowing some of Szczur's underwear.
Szczur now is spreading his gold luck charm to Jewish Baseball Museum founder Jeff Aeder. See what the gift he gave during a visit to Aeder's restaurant, Milt's Barbeque for the Perplexed, a kosher BBQ restaurant located near Wrigley Field.
https://www.facebook.com/jeff.aeder/videos/vb.100006710880686/1824683657765313/?type=2&theater