Next big Jewish star? Top prospect Bregman gets call from Astros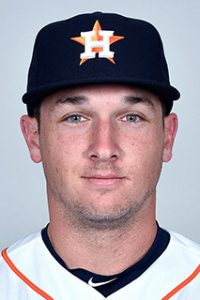 Great ready to hear a lot about Alex Bregman.
The Astros called up their top prospect, who made his debut Monday night in 2-1 loss to the Yankees. Bregman went 0 for 4, just missing a grand slam with a warning track flyout in the sixth. He did make a nice play at third base.
"Just missed a few pitches today," he said after the game. "Back at it again tomorrow."
Big things are expected of Bregman, which is why he received a standing ovation from the Houston fans as he walked to the plate for the first time. The No. 2 pick in the 2015 MLB Draft, he has been tearing it up in the minors.
He hit .306 with a .406 on-base percentage, 20 homers and 61 RBIs this year combined at Triple-A Fresno and Double-A Corpus Christi. Bregman was hitting .333 with a .373 on-base percentage, six homers and 15 RBIs in 18 games since joining Fresno.
"It's a dream come true," Bregman told MLB.com. "And I'm ready to go work, keep my mouth shut and hopefully help contribute."
MLB.com's Jim Callis had a scouting report on Bregman. From the story:
Wherever he plays, Bregman is equipped to be a star. There's no weakness in his offensive game, as he has outstanding bat speed from the right side of the plate and has complete control of the strike zone. Bregman barrels balls consistently, and since he has made an adjustment to attack and turn on pitches on the inner half of the plate since turning pro, he could hit 25 homers per season.

Though Bregman has elicited comparisons to Dustin Pedroia for years because he has similar size and plays with the same chip on his shoulder, he has more speed and defensive versatility. He's an average runner with excellent instincts on the bases. Bregman is capable of playing at least an average shortstop, and his solid arm and gift for anticipating plays could make him a plus defender at third base.
Congratulations to Alex. JBM looks forward to writing a lot about you in the upcoming years.