Greatest games: Sandy Koufax throws first no-hitter against Mets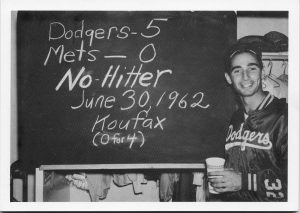 We are debuting our Greatest Games series. From time to time, JewishBaseballMuseum.com will look at memorable game performances by Jewish players. 
******
When Sandy Koufax took the mound in Dodgers Stadium against the New York Mets on June 30, 1962, he wasn't quite "The" Sandy Koufax yet.
Thanks to tip by catcher Norm Sherry during spring training of 1961, telling him to ease up a bit, Koufax finally found his control. Still, he was good, but not excellent during that season. He went 18-13 with a 3.52 ERA.
Koufax then started to hit his stride in 1962. However, the no-hitter against the Mets gave an inkling that something special was taking place.
Koufax set the tone from the start. The first batter, Richie Ashburn, a future Hall of Famer, struck out on three pitches. Then Rod Kanehl saw three pitches, culminating in a swinging strikeout. The next batter, Felix Mantilla, three pitches for another K.

Koufax struck out the side on nine pitches, the first time a pitcher ever achieved that feat in the first inning.
The game was effectively over in the bottom of the inning when the Dodgers scored four runs to knock out Bob Miller. For the rest of the night, the 29,000 fans watched Koufax perform his magic.
Koufax wound up fanning 7 of the first 9 hitters. After Ashburn opened the fourth inning with a walk, the lefthander got Mantilla to hit into a double play to end the inning.
Koufax wasn't perfect that night. He issued five walks.
But the Mets couldn't touch him, as Koufax recorded 13 strikeouts. With the crowd standing in the ninth inning, he closed out the no-hitter by getting Mantilla to ground to shortstop Maury Wills.
The final out put Koufax's first no-hitter in the books. It wouldn't be his last, as he added three more.
While the Mets were all-time terrible in 1962, en route to a 40-120 mark in their first year, when Koufax was operating at peak form, nobody hit him.
In Jane Leavy autobiography, "Sandy Koufax: A Lefty's Legacy," she had this quote from Dodgers reliever Ron Perranoski:
"From my angle back there, sitting in the bullpen, his curveball used to break from the first deck, it looked like. And all of a sudden it's breaking from the second deck and I said to the guys, 'They're in for a rough day."
Here is the complete play-by-play for that game via BaseballReference.com.