Pray Ball! Rabbi's new book examines Jewish teachings, values through sports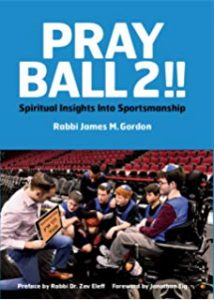 Rabbi James Gordon always has been a passionate sports fan. Obviously, he has another passion too.
So it was natural for him to tie sports to the Torah, Jewish teachings, and just plain Jewish values.
Gordon's latest, Pray Ball 2!!: Spirtual Insights into Sportsmanship, is the sequel to his 1999 book Pray Ball!: The Spiritual Insights of a Jewish Sports Fan. The new book addresses Gordon's concerns about sportsmanship in sports and beyond.
Divided into 30 easy-to-read chapters, Pray Ball 2 explores such topics as: Four Levels of Sportsmanship; Enforcing Sportsmanship; The Causes of and How to Prevent Bad Sportsmanship; and  sportsmanship Awards and Inspirational Quotes.
Baseball figures are used prominently to illustrate aspects of sportsmanship. There are relevant stories on Ernie Banks, Jerry Reinsdorf, Marvin Miller, John Wooden, Sandy Koufax, Mickey Mantle/Roger Maris, Jackie Robinson, and collegiate softball players Sara Tucholsky and Mallory Holtman.
Figures in Jewish history cited in this book (more than 150) include: Biblical heroes Abraham and Sara, King David and Jonathan; Talmudic figures Rahbi Akiva , his students and his wife Rachel; Sages Hillel and Shammai , and Nachum Ish Gamzu ; and such heroes from modern Jewish history as Anne Frank, Professor Nechama Leibowitz and Rabbi Abraham Isaac Kook.
Ultimately, Gordon hopes to show how to use sports as a way of imparting Jewish values to people of all ages.
Here is our JBM Q/A.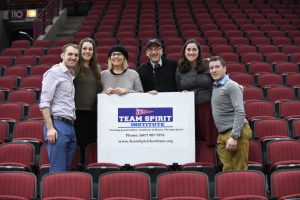 What was your motivation for writing the book?
I feel that sports is a highly under-utilized resource for education and moral development (both in the Jewish and secular worlds).  In addition to the health benefits of play, sports can be a valuable tool for social, ethical and character development.  On a personal level, attending my first sporting event (a Chicago White Sox game) at the age of five, inspired me to play baseball, pick-up a newspaper and read the sports pages.  Not only did reading sports stories sharpen my reading and writing skills, but it also enhanced my knowledge and appreciation of mathematics (by closely following batting averages and other statistics).  As a rabbi, I want to do my part in bringing fellow Jews closer to Judaism and making the world better.  I especially enjoy carrying out my spiritual mission, in part, through sports.
What was your process to connecting the stories in the book to the Torah and Jewish teachings?
It was and is a natural process.  That's the way I think.  When I read passages from the Torah, Talmud, Codes and other texts, oftentimes, I think of stories from the world of sports that can lead sports fans to better appreciating that text.  When reading sports stories, oftentimes, my mind connects it to a story in Jewish history and to a particular text.
Do you have concerns sportsmanship is on the decline?
Unfortunately, yes.  While winning and teaching about competition is very important, in many cases not enough emphasis is placed on the process and the other life lessons that can be learned by playing the game according to the rules and beyond.
What have you seen at the parent level in regarding to their children and sports? How much are these lessons directed at them?
Two personal stories resonate with me particularly.  Although they took place more than 45 years ago, I oftentimes think about them.  I played in Little League and Pony League.  Both teams were coached by fathers of players on the team.  In Little League, the coach's child was not the star.  Although we finished last, we all had a good time.  It was an extremely positive experience in large part because the coach instilled positive lessons.  When we made mistakes we were taught in a constructive way on how to improve.  When we lost, we still had an enjoyable experience.
The following year I played on a team where the coach's son was one of the best players On days he did not pitch, he was the catcher (the two most skilled positions).  His father was so intense in his coaching and intent on winning that he did not hesitate to lash out at his young teenage players in front of the entire team.  (He also dressed in the team uniform, something that no other Pony League coach did.) The coach had a ritual to treat the players to a cup of pop (15 cents) after games we won.  One game, I missed a bunt signal.  We still ended up winning.  After the game, the coach openly said to the team, "Today the Cokes are on me, even though, Gordon should really be treating us since he almost cost us the game."
The first half of the season we went undefeated (10-0).  I missed the second half because I went to overnight camp.  When I returned, I heard that the team went 3-7 and lost in the playoffs.  The team's decline was not because of my absence, as I was the ninth best starter on the team and only started because I was willing to play third base.  I was told that once the team lost their first game, the coach began to show his anger, and slowly the team unraveled.  Some kids quit and those who remained did not play in a cohesive manner.
Fortunately there are many parents who coach or support their child's interest in sports in a positive manner like my Little League coach.  Unfortunately, there still remain parents who are either coaching or "over-involved" who, like my Pony League coach, detract from the sporting experience.
My new book is directed to all those who are involved in sports at all ages and levels:  players, parents, coaches, umpires, administrators,  . . . And even the PA Announcers.
What were your favorite baseball stories in the book?
Besides Babe Ruth's "Called Shot," my favorite baseball stories in PRAY BALL 2!!  Spiritual Insights Into Sportsmanship (PB2!!), are Sara Tucholsky's "Most Inspirational Home Run Ever" (PB2!!, pp. 159-161) and Pee Reese's "One Arm Over Two Shoulders" (PB2!!, pp. 137-138)  – even if it never happened the way it is memorialized.
The Tucholsky home run illustrated an incredible act of sportsmanship when players from the opposing team carried her around the bases after Sara injured her knee.  Pee Wee Reese's overt acts of letting the world know (beginning with his own teammates) that Jackie Robinson was a Brooklyn Dodger and had to be respected and treated fairly like all Dodger players, helped ease the most difficult transition for Jackie Robinson and for all African Americans and other players of color who followed in Baseball (and all major team sports).
Your children are involved in sports, as were you. How did that involvement influence your perspective on sports?
Over the course of about 15 years, I had the opportunity to watch a countless number of school basketball games, cross country meets and wrestling matches.  I got to see and hear about many wonderful, positive coaches, along with a few "not so wonderful."   Most of the parents I met encouraged their children to play competitive sports  – – for the right reasons (see my Michael Jordan story pp. 18-19).
Some parents, unfortunately, took sports too seriously, some even living vicariously through their child's sporting experiences.  Even when my children did not have a positive experience, together we tried to see the silver lining and learn important lessons along the way.  My wife, children and I work out regularly.  Our greatest take away from participating and watching sports is the importance of keeping body, mind and soul healthy and sharp.  In my 60 years in this world, I have learned that two of the best ways to bond with children is by "having a catch" and going to sporting events together.
Ultimately, what do you hope people get out of the book?
I hope that the readers learn more and incorporate more acts of sportsmanship on the field/sports venue as well as acts of Derekh Eretz v'Khavod (Respect & Honor) in their lives outside of sports venues.
Who is your intended market for PRAY BALL 2!! ?
While I hope that people of all ages (12-120) read the book, my main audience are students at Jewish (day & Hebrew) schools and campers at Jewish (day and overnight) camps along with their parents, teachers, counselors and coaches.  An educational program was successfully piloted this past summer at Camp Moshava in Wild Rose and, G-d willing, similar pilot programs will be run in several day schools this coming academic year.  Currently, I am writing supplementary educational materials to be used hand-in-hand with PRAY BALL 2!!
Who is the publisher of PRAY BALL 2!! ?
PRAY BALL 2!! is published by Team Spirit Press, a Division of Team Spirit Institute (TSI).  TSI is a charitable foundation that I founded with others whose mission is to create/implement fun, educational programs using sports to teach Jewish values, traditions and history.  To learn more about TSI, I encourage you to visit our website:  www.TeamSpiritInstitute.org . All proceeds from the sale of PRAY BALL 2!! are being donated to TSI to help fund future publications and programs.
Where can one purchase a copy of PRAY BALL 2!! ?
At Jewish bookstores in Chicago, other US cities and Israel, as well as on Amazon.com .