Q/A with director of Team Israel film: 'Heading Home' chronicles improbable journey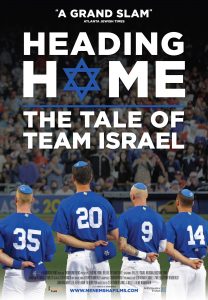 Last year, Team Israel captivated sports fans everywhere with its improbable and inspiring run in the World Baseball Classic.
Now you can see the story behind the story.
Heading Home: The Tale of Team Israel is a terrific new movie by Ironbound Films that documents how a squad of unheralded Jewish big league and minor league players stunned the baseball world by sweeping pool play in South Korea to advance to second-round competition in Toyko. Israel then continued its roll, beating baseball-crazy Cuba before the dream ended with two losses.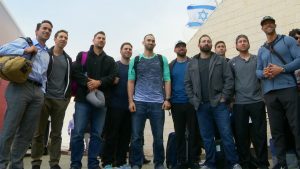 Yet this is much more than a baseball movie. The filmmakers also were embedded on a pre-tournament players trip to Israel, which was organized by JBM founder Jeff Aeder (proud to say Jeff is listed as a producer for the film). The scenes show the emotions the players experienced in seeing the Promised Land for the first time, and how the trip gave them a greater sense of identity when they sported jerseys bearing Israel's name in the World Baseball Classic.
Team Israel was full of compelling characters, along with its ever popular mascot, "The Mench on the Bench." They give the film a nice mix of funny and poignant moments. Directors Seth Kramer Daniel A. Miller and Jeremy Newberger elegantly weave it all together in chronicling this important piece of Jewish sports history. The ending segment, where everything is tied together, is very powerful.
Heading Home currently is showing at Film Festivals throughout the country. There will be screenings at the JCC Chicago Film Festival this Sunday and the following Sunday, March 18.
Heading Home's twitter feed has information on upcoming Film Festival showings in other cities. Eventually, the film will make its way to theaters for broader distribution.
Here is our Q/A with Newberger.
How did this project get started?
We attended a Jewish sports boys camp in the 80s, and we became buddies with Jonathan Mayo (a writer for MLB.com). We always wanted to collaborate on a project with Jon, who is obsessed with Jews in baseball, and he suggested following a group of Jewish major leaguers on a Birthright trip to Israel. We went to spring training in 2015 and interviewed 10 Jewish players; Joc, Pederson, Ian Kinsler, Sam Fuld. We put together a sizzle reel, shopped it around, but it didn't have the legs to become a film.
Then in (September, 2016), Israel qualifies for the (2017) World Baseball Classic. Jeff Aeder, who had been in contact with Jon, calls and says he is putting together a trip to Israel with Jewish players and would we like to come? We decided, 'Let's see what we can do.' It was just kismet that it all worked out and that the team became a really good story.
What were you hoping to get from the trip to Israel?
We were so embedded, it allowed us to capture many of the emotional responses the players had over there. We knew what we wanted to see, but we weren't sure what their reactions would be. Josh Zeid is someone who wears a Jewish star around his neck. How would he respond to the Holy Sites? We were hoping to show how they were either transformed in some way or how it would reflect on their Jewish experience in America.
One thing we didn't anticipate was their reaction to a graffiti wall in a back alley in Tel Aviv. The artist had started a painting of Sandy Koufax, and he allowed the players to finish it. The painting almost was as much hallowed ground for the players as some of the Holy Sites. It was an incredible thing for them to be in Israel and be able to paint a picture of their hero. It was one of the more spiritual moments on the trip.
Each of the players beautifully articulated their feelings before and after the trip. They all had different experiences, but each one had a positive experience.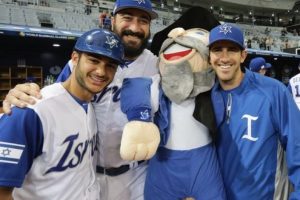 Having compelling characters is essential to any director. You had no shortage with Team Israel. What did that mean for the film?
The overriding theme is that this is a group of nice Jewish boys. They were very likable and funny with strong personalities. Usually, as a filmmaker you try to hone in on two or three people. But we had so many guys who were so interesting and so important to the story, we ended up broadening it out. You come away from the film like Team Israel is the character.
Israel came into the WBC as a big underdog. What were you thinking when they won their first four games?
This was a new experience for us. Usually, we spent five years on a topic that nobody knows about until we put it out there. Now all of the sudden, we're documenting this Cinderella sports moment that had everyone talking. The moment I knew we were on to something was after Israel beat South Korea (in the first game) and I got a text from my wife's brother. He's not Jewish and is a big baseball fan. His text said, "Dude, are you with Team Israel? Awesome!" That's when I realized something is going on here.
The players kept telling us confidently saying, "We're a good team. We're going to do well." I liked these guys and I wanted them to do well, but I didn't anticipate they would keep winning. From a film standpoint, we never knew what was around the corner.
I love the fact we were there for this sports moment that will go down in the history of Jews in sports. They really did capture the fans' imagination. People who don't normally root for Israel were rooting for Israel.
The charm of the film is being in the front row, being there in the moment.
What do you hope people take from this film?
It's about growing up Jewish and what Israel represents to you. Then to take it further, when you grew up Jewish and you then represent Israel. What does that mean? Jews of the Diaspora have a different relationship with Israel than Israelis, but yet we all share the same reaction from the rest of the world toward Jews. Whether it is Antisemitism or hostility toward Israel.
I think the film's takeaway is that there is meaning for us as American Jews to go Israel and have a love Israel. We examine why and how it manifests itself through these players.