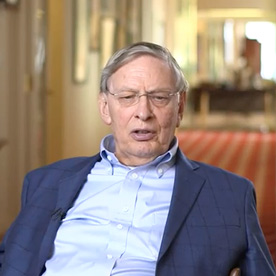 Video Q/A with Bud Selig: 'Evolution of Jews in baseball similar to evolution of this country'
Bud Selig once got personal testimony from Hank Aaron on what it was like to face Sandy Koufax. A hint: Not pleasant.
Selig has a warm relationship with Koufax and knew Jewish baseball icons Hank Greenberg and Al Rosen. He became owner of the Milwaukee Brewers in 1970, a time when there were few Jews in that fraternity. Then he became baseball's first Jewish commissioner, and ultimately the longest-serving commissioner.
His vast history in the game dates back to 1947 when as a teenager, he ventured to see Jackie Robinson at Wrigley Field.
Indeed, it is hard to imagine having a better person kick off our new Jewish Baseball Museum website than Allan H. Selig. Or simply Bud as he is known to his friends and fans.
JBM founder Jeff Aeder and I, along with our camera crew, had the pleasure of visiting with Selig at his office in Milwaukee. There was a big Major League Baseball logo on the floor in the lobby, and as you would expect, the office featured many artifacts from his days in baseball.
Selig was gracious with his time. He treated us with valuable insights and stories about Jews in baseball.
Selig: "The evolution of (Jews) in baseball was very similar to the evolution of this country."
Selig: "What wouldn't have happened in 1935, 1940 happened. That's a great compliment to baseball."
Selig: "Hank was a great player, but more importantly, was a wonderful human being."
Selig: "Aaron said, 'Boy, I'm glad I don't have to face him again.'"
Selig: "We were the only white people in the upper deck."
Selig: "What I noted in Israel were the number of people walking around with baseball caps."