Q/A with Ruben Amaro Jr.: From Phillies bat boy to World Series GM; new path as Boston coach
Ruben Amaro Jr. played eight seasons as a utility man in the major leagues, mostly with his hometown Philadelphia Phillies. His father, Ruben Amaro, a native of Mexico, played 11 seasons in the majors – mostly with the Phillies, too. In fact, they are the only father and son to play for the franchise, a feat they matched with the California Angels.
Post-career, both also worked for the Phils. Amaro Jr. rose in Philadelphia's front office to become assistant general manager and general manager – winning one World Series and reaching another. After the 2015 season, the Phillies' second consecutive last-place finish in the National League East, Amaro was fired.
He resurfaced in an unlikely place: back on the field, as a first-base coach with the Boston Red Sox, not in another franchise's front office. In fact, this is the first time Amaro, 50, has ever been a coach. Many coaches become executives, but rarely does the order occur in reverse.
Red Sox manager John Farrell told the JewishBaseballMuseum.com that when the opening came up, he and his bosses decided they wanted someone with people skills, experience and the ability to coach outfielders on their defense besides man the first-base box. Days after that discussion, Amaro found himself jobless and publicly expressed an interest in a field job. The Red Sox pounced.
"His career path says what everyone saw: a smart guy who saw the game, with the ability to draw on his own experiences, plus a life of growing up with the game [that] gives him a great foundation to serve in any capacity the game has. He's a rare guy," said Farrell, Amaro's teammate in the Cleveland Indians' farm system in the 1980s.
"It's worked," said Farrell. "He's just a well-rounded baseball guy. Maybe there's something at work up there that says this was meant to be."
Amaro also must have been meant to be in the corridor of the Phillies' offices a few years ago, even though it was Christmas week and many employees were off. The team's director of graphic production, Tina Urban, was choking on a French fry. She motioned for help. Amaro happened to be walking by and saw her. He administered the Heimlich maneuver.
"He's my savior," Urban said.
JBM interviewed Amaro in the Red Sox' dugout on August 17 before a game in Baltimore.
* * *
Short Takes
"We exposed [the holidays] and Jewish traditions to our kids when we got married."
"After the last pitch of the World Series, we were out there celebrating, all three of us on the field, in uniform. How crazy is that!"
On his tenure with the Philadelphia Phillies, Amaro said he feels "very proud of being a significant part" of "one of the golden eras of the history of our franchise."
As a new coach, "Some players might have been looking at me and going, 'What is this guy doing, and why? Does he know what he's doing?' "
* * *
The JBM Interview
It's cool that you and your dad are the only father and son to play for the Phillies.
Amaro Jr.: The Angels, too. We're basically Philadelphia Phillies lifers. My dad played for the Phillies and went into the front office; I played for the Phillies and went into the front office. They brought my dad back for alumni weekends, and I assume that when it's appropriate, I'll get an opportunity to come back as well.
When they did a countdown of games at the Vet [Veterans Stadium, which was razed after the 2003 season], we did that together. When they had a celebration of the last game at the Vet, my dad and I were there, in uniform. My dad worked in the minor league system then, when I was assistant GM. Ed Wade, [the Phillies' general manager,] hired my dad to work with our infielders and do some managing with our GCL [Gulf Coast League] team, so he was doing player development while I was in the front office.
I read that not only is your mother Jewish, but your dad, too, might have some Jewish background. Is that right?
No, my dad does not. When my parents were together, they always wanted to expose us to everything, so we celebrated all the major holidays – both Catholic and Jewish. The High Holy Days, Yom Kippur, Passover – we still, in some ways, try to honor those.
We're not particularly religious people, in general, but we always respected [the holidays] and lit the lights during Chanukah growing up. Interestingly, I was married to a Catholic my first time and was married as a Jew the second time. I was remarried, and my wife is Jewish. We had the wedding at the Lubavitch synagogue in Newtown. We chose that because I was friends with the rabbi there. I grew up with him in northeast Philly. I lived about five or 10 houses from him.
We exposed [the holidays] and Jewish traditions to our kids when we got married. I have two daughters and three stepkids.
I was not bar-mitzvah, nor was my brother. We grew up in a Jewish neighborhood. My dad wanted to get us bar mitzvah, and my mom was like, "It's not that big of a deal." We ended up getting baptized, but that wasn't a big deal, either. My dad was very open-minded. He felt very close to that religion. He was only 25 when he met my mom. All her friends were Jewish.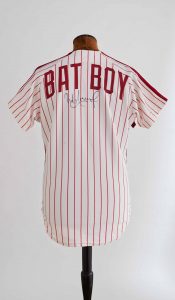 I heard that as a kid, you served as the Phillies' batboy.
I was a batboy from 1981 to '83, and parts of '80 helping out the head batboy. So I was out there for the '80 World Series, in uniform. I was 15 through 18.
The very first year you were in uniform was when the Phillies won the very first World Series in their history. What do you remember of it?
I remember everything. My dad was the first-base coach at the time. We had Mike Schmidt, Pete Rose, Larry Bowa, Steve Carlton, Bob Boone, Garry Maddox, one of my favorite players: Bake McBride, Greg Luzinski, Manny Trillo – I don't want to leave out anybody. My brother was on the field, too, [for the World Series clincher]. He was a freshman at Duke, and they didn't have a ticket for him, because it was sold out. So [manager] Dallas Green told my dad, "Ah, just put him in uniform!" So after the last pitch of the World Series, we were out there celebrating, all three of us on the field, in uniform. How crazy is that! It was insane. We were jumping around. We couldn't believe it. It was terrific.
This season's trade deadline has just passed. This year, you weren't any more busy than you'd normally be for a game. But in previous years, as a GM, it must have been a crazy time in the hours and days before the trade deadline. What was that like for you?
That was the most fun I had in my job. You'd bring all the elements of your organization together. Each department and all of your advisers are kind-of in one area, discussing what it is we needed to do to try and improve the team or to rebuild or whatever the case may be. The trade deadline was probably the most aggressive and most emotional, most enjoyable, most gratifying and most frustrating time all wrapped up in one.
This year was, obviously, a lot different, because I was on the field, waiting to see what would pan out. [Boston GM] Dave Dombrowski did amazing things even prior, a month before the deadline, [adding] Drew Pomerantz, Aaron Hill to greatly and marginally improve our club. That's a very difficult thing to do. It's a credit to the organization.
There's all these pressures: whether you should be moving prospects, how valuable prospects are, the difficulty of trying to do a deal when there are so many teams looking for the same sort of things. I've sat in that seat. I know how difficult it is to get something done.
When you think back to trades that you made and the years you reached the World Series, are there things you are gratified you did?
Well, [acquiring] Cliff Lee was a big one for us. Subsequently, we got Roy Oswalt and then Hunter Pence – those were really big ones for us that helped improve our club. At the same time, those were trades that took a lot of talent out of our system. But for the time we wanted to do them, those were all very gratifying for us.
You worked in the Phillies' front office for 17, 18 years. How do you look back on that time?
I'm proud of what we did. The things we did with Ed Wade and, before that, Pat Gillick, winning five straight divisions, going back to back to the World Series, having won a World Series championship – I feel that is one of the golden eras of the history of our franchise, and I feel very proud of being a significant part of that. Clearly, there were very important people involved in that process: David Montgomery being one of them, Bill Giles being another, Ed Wade, Pat Gillick. I feel very, very gratified to have been a part of it in a pretty substantial way.
What has the transition been like for you: from being an executive in the game for almost two decades, to come onto the field as a coach?
Since I was going to [also] be in charge of outfield play and base-running, what I did was grab some of the files and some of the information I had compiled personally about those two areas, and run down different pieces and important elements of doing that job. I drew on some of my own experiences, and started writing down things. It took a lot of hours. Also: making contact with people in the Boston organization and getting their take on how they were teaching their players in the minor leagues and major leagues. I got a hold of their player-development books and tried to morph some of that information together and came up with my own plan to prepare the players in spring training.
I also had to physically do a lot of things [last offseason]. I got the equipment guy to send me a couple of fungo bats we use to hit ground balls and fly balls. I went into a cage and hit hundreds and hundreds of fungoes into the netting. I did the same with [throwing] batting practice, too. I had the advantage or disadvantage of being ambidextrous. I worked on throwing to my nephew two, three times a week.
I tried to make sure I could at least be competent in those areas. I'm still working on some of those skills. Some of my outfielders say I'm not quite there with my fungoes. [He laughs.] Those are all things I haven't done in many, many, many years, and in some cases have never done. Now I'm in the mode of doing those things on a very high professional level. You're talking about major league players. I didn't want to embarrass myself. I take pride in the fact I'm doing things well, or at least competently. I think next spring will be much easier.
What are your responsibilities in working with outfielders and base-runners?
With the outfielders, it's positioning, preparing the guys, making sure they're ready to play. Baserunning-wise, it's about getting as much information and advance work and reports on other pitchers to gain some sort of advantage as far as stealing bases or taking the extra base, or understanding the catcher's strengths and weaknesses. I'm still learning a lot. I thought I knew a little bit about the game, but getting back down here on the ground level as a coach, there's a lot I've learned and am still learning.
Not many people have made the transition you have. I can think of just a few who went downstairs and became a manager: Jim Fanning, Dallas Green, Dan Jennings and even Ted Turner.
Dallas Green … is somebody I view as one of my mentors. I worked with him in the front office. Another person was Paul Owens, the GM who took the team to the World Series in 1983. They were people who worked with my dad. My father, as well: He worked for the Phillies as assistant farm director and then director of Latin-American scouting, then ended up being a manager for many years in the minor leagues. … John Farrell and I talk about this a bit: He went into player development with the Cleveland Indians and became the pitching coach for the Red Sox and ultimately manager with Toronto and Boston. So there are some people I'm directly related to who went through this type of transition. I don't think there's anyone who's gone from a GM to being a coach, but certainly some have done the managing thing.
Has this been a seamless transition or were you surprised by anything?
Fairly seamlessly, I guess. My biggest concern was credibility. Some players might have been looking at me and going, "What is this guy doing, and why? Does he know what he's doing?" I had to, right out of the chute, get to know these guys. I called a lot of the outfielders during the offseason to introduce myself.
You probably could have moved into another good front-office job. What possessed you to do this?
It's probably a matter of curiosity. I've always had a burning desire to be back on the field in some way, shape or form. I think my management style in dealing with players is a good one. The experience of being on the ground floor again would be beneficial to me not just as a possible GM again or being in the front office, but possibly managing down the road is something that was appealing to me. The game has changed pretty dramatically, and seeing how the inner workings are on the field on a daily basis, and how they've changed over the years – I think it's going to help me become a better front-office guy. I really do. I get to see things working, in a different capacity.