First scouting report on Sandy Koufax: Definite prospect; 'Also plays first because of hitting ability'
If Sandy Koufax was a young prospect today, the teams would have reams of scouting data on him leading up to the MLB Draft Thursday.
But it wasn't that way in the 1950s when Koufax was pitching at the University of Cincinnati. In fact, there wasn't even a draft back then.
Thankfully, though, we do have a glimpse of how a Brooklyn Dodgers scout viewed the young Koufax. The bottom line: He likely would have been a high first-round pick–perhaps even as a first baseman.
The National Baseball Hall of Fame has a terrific site called Diamond Mines.  It features scouting reports on numerous players as prospects and during their days in the big leagues.
The report from Dodgers scout Bill Kinser dated May 15, 1954 is like finding that first nugget of gold on Koufax.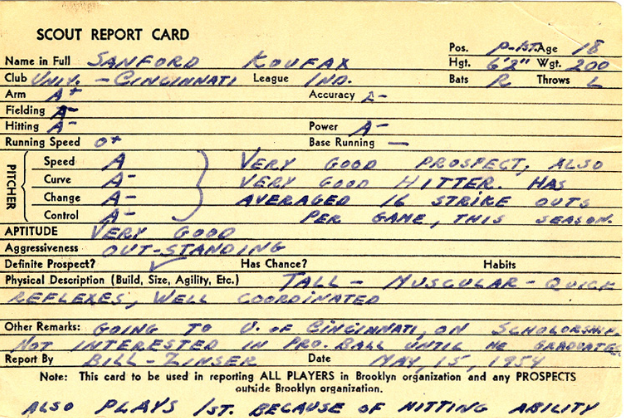 Kinser had a favorable first impression of "Sanford Koufax," although he listed his age wrong; he was 19, not 18. The scout had his arm rated as an A+, fastball as an A and everything else at A-. He called him "a very good prospect" on the heels of him averaging 16 strikeouts per game for Cincinnati.
It is amusing to note that Koufax impressed Kinser with his bat. The scout wrote, "Also plays 1st because of hitting ability."
Considering Koufax had a career batting of .097, that hitting ability wouldn't have taken him far in the big leagues.
Kinser had Koufax checked as "a definite prospect." However, he writes: "Not interested in pro ball until he graduates."
So what happened to change his mind? In the definitive biography, "Sandy Koufax: A Lefty's Legacy," Jane Leavy writes that other scouts began to take notice of Koufax following his only season pitching at Cincinnati. He was 3-1 with a 2.81 ERA. He had an eye-popping 51 strikeouts in 32 innings, but the wildness also was there with 30 walks.
Back then, every player was a free agent. Teams started to contact Koufax.
Leavy writes: "The momentum of his improbable baseball career was gathering force. The Yankees, with their customary ethnic sensitivity, sent a Jewish scout to court him, offending his family and precluding any possibility of a future in pinstripes."
Leavy details how the Pirates and then general manager Branch Rickey were extremely high on Koufax. After a workout at Forbes Field, Rickey reportedly said, "This is the greatest arm I've ever seen."
However, the Pirates refused to increase their initial offer of $15,000. That gave an opening to the Dodgers to lock up the Brooklyn native.
After a session at Ebbets Field, Al Campanis gushed over Koufax, giving him A+ for his fastball and curve, and even an A- for control.
Campanis wrote: "Good poise and actions–smoother delivery–many clubs interested. Two are willing to make him a bonus player. Lad appears to possess confidence in himself. He has the tools. Whether or not to make him a bonus player is the question."
Koufax's father, Irving, eventually convince the Dodgers to give the young pitcher $20,000, a $14,000 signing bonus and $6,000 for the first season. He was done with college. It was on to the big leagues.