How scouts viewed Blomberg, Epstein, Lieberthal, Ausmus, Amaro, Marquis as prospects
With the MLB Draft on Thursday, it is fun to look back at the scouting reports for several prominent Jewish players before they became stars.
They can be found on Diamond Mines at the National Baseball Hall of Fame's site. The reports for current and even some of the recent players aren't there, but there is plenty of good data available.
Ron Blomberg: 1967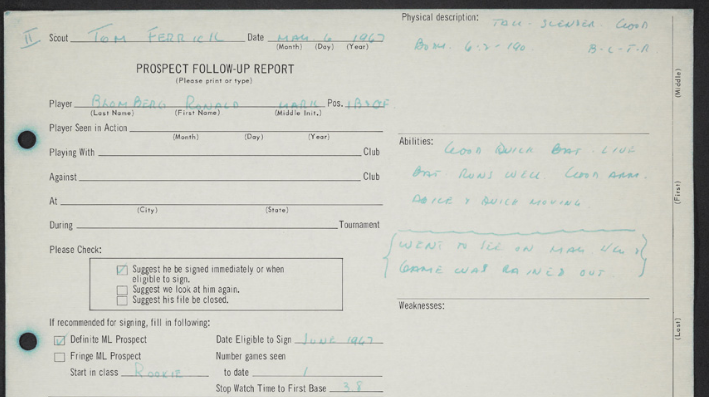 It isn't easy to read, but scout Tom Ferrick wrote: "Shows good quick bat…Ball jumps off his bat."
Ferrick said he wanted to see Blomberg again. "I like his overall tools very much."
It turned out the Yankees liked him enough to make Blomberg the first overall pick in the 1967 draft.
*****
Mike Epstein: 1965

This is actually a 1965 scouting report for Epstein when he was playing for Class A Stockton, Calif. in the Baltimore organization. The scout was impressed with Epstein, but noted, "trouble with his eyes." He also listed a question mark under the hustle category. Not sure what that was about.
Epstein made his big league debut in 1966 following a big season at Triple A Rochester.
*****
Mike Lieberthal: 1990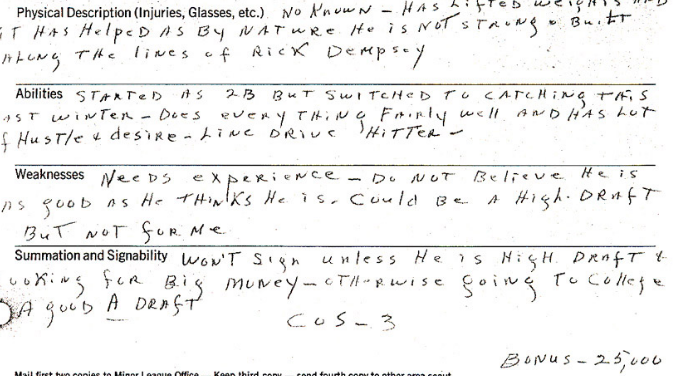 This is an interesting report on Mike Lieberthal. The scout, Joe Stephenson, had some questions about the catcher.
He wrote: "Needs experience. Do not believe he is as good as he thinks he is. Could be a high draft pick. But not for me."
Philadelphia begged to differ. The Phillies made Lieberthal the No. 3 pick in the 1990 draft. He rewarded them by being a foundation of their team behind the plate for many seasons.
*****
Reuben Amaro Jr.: 1991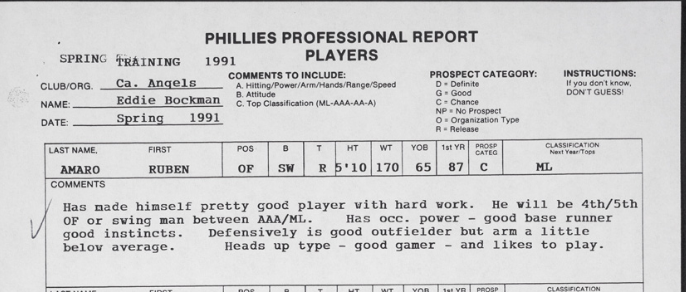 Amaro was in the Angels' farm system at the time. However, he made a good impression on this Philadelphia scout. The Phillies obviously were persuaded, trading for Amaro later that year. The scout was right. Amaro ended up being a valuable reserve player.
****
Brad Ausmus: 1990

Ausmus was a young catcher in the Yankees farm system at this time. Again, this scout was right. He played solid defense and showed his potential with the bat many times during an 18-year career in the big leagues.
*****
Jason Marquis: 1996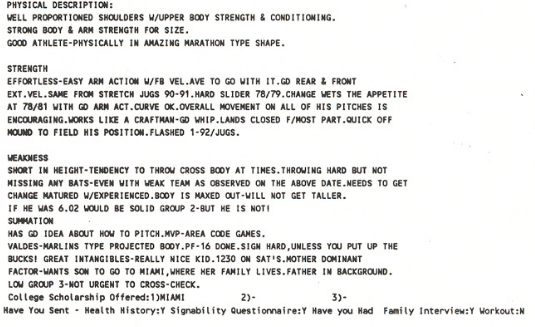 This is a report from a White Sox scout while Marquis still was in high school. The scout clearly liked him, saying he was in "amazing marathon type shape."
However, the scout wrote: "Sign hard, unless you put up the bucks!"
Then he added, "Mother dominant factor–Wants son to go to Miami, where he family lives."
Likely due to the report, the White Sox did not select Marquis. However, the Atlanta Braves did with the 35th pick in the draft. Then they gave Marquis the "big bucks" with a $600,000 signing bonus. So much for playing college ball at Miami.