Story of why Guy Zinn, the subject of famous baseball card, is no longer considered Jewish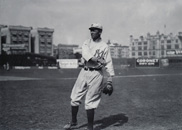 Guy Zinn has been removed from the list of players eligible for inclusion in the Jewish Baseball Museum.
Zinn's ancestry has long been under dispute, and was recently revisited following a New York Times article on Dec. 19, 2016 about Zinn's one-of-a-kind baseball card.
Zinn played for the New York Highlanders (1911-12), the Boston Braves (1913) and the Federal League's Baltimore Terrapins (1914-15).
Zinn joins former players such as Buddy Myer, Lou Boudreau, Jacob Atz, Greg Goossen and Dave Newhan, who previously had often been listed as Jewish. However, they do not fit the museum's definition of Jewish ballplayers.
I first questioned Zinn's ancestry in 2010 when I wrote a blog for lehighvalleylive.com about his baseball card being listed on eBay for $250,000.
The blog was eventually linked by the Spiker family website. The Spikers included Zinn, a West Virginia native, as a distant cousin.
The Spiker family matriarch's diary included heavy references to her Christian faith.
I contacted the website's historian, who said the family was "puzzled" by the Jewish reference to Zinn. She said Zinn was a distant cousin, and the Spikers had little contact with that side of the family. An extensive biography of Zinn, written by Melanie Spiker-Fouse in 2010, remains on the family website.
Shortly after The Times article about Zinn's card appeared in December, the museum received an email from reader Elaine Hirschberg, who became interested in the Zinn genealogy and did extensive research on ancestry.com. The material, which included census, birth and cemetery records, revealed that the Zinn family arrived in the Colonies in 1749, and most members were Seventh-Day Baptists.
Meanwhile, I contacted the National Baseball Hall of Fame Library, which maintains a file of player biographical information filled out either by the ballplayers or family members.
Under "ancestry," Mrs. E.W. Talley had written "German-Jew" on Guy Zinn's profile page. Jean Talley was Zinn's daughter. The form was filled out after Zinn's death in 1949.
Zinn was first listed as Jewish by writer David Spaner, who compiled the definitive list of Jewish players that was published in Total Baseball Edition 3 in 1993. Spaner told me he checked Zinn's Hall of Fame questionnaire when writing the article, and it is the only reference he had in his decision to list Zinn as Jewish. He noted he believed the reference was "significant".
Based on Hirschberg's genealogical research, it appears the Zinn family was at least three-quarters English/Welsh and less than one-quarter German. Zinn's parents and children were Christian.
Perhaps the Zinn family converted from Judaism previous to its arrival in the United States in the 1700s. However, that does not meet any of the criteria which would qualify a player for inclusion in the museum.
Bob Wechsler, the author of "Day by Day in Jewish Sports History," is working on a new book on Jewish baseball cards.