Team Israel players to make special trip to Holy Land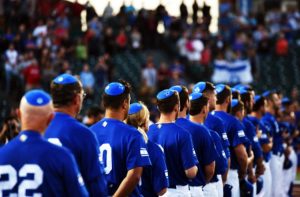 There was a striking scene when Team Israel played in Brooklyn in September in qualifying for the 2017 World Baseball Classic. The players took off their hats when the HaTikvah, the Israel national anthem, was played.
"They all were wearing kipot under their hats," said Jeff Aeder, the founder of JewishBaseballMuseum.com. "How cool is that? I saw how much those players enjoyed being part of Team Israel. These guys had no real affiliation to Israel except for the 'law of return.'"
In a baseball sense, the 'law of return' allows any Jewish baseball player to represent Team Israel in WBC competition. This week, several of those players will take an even bigger step in deepening their connection to the Holy Land.
Tuesday, a group of Jewish players will leave the U.S. on a private plane for an incredible once-in-a-lifetime trip to Israel.  During their week-long stay, eight players with Major League Baseball experience and two minor leaguers will visit Tel Aviv, Jerusalem and its holy sites, an Israeli Air Force base, Masada, and the Dead Sea. They also are scheduled to meet with U.S. Ambassador to Israel, Daniel Shapiro, noted refusenik and chairman of the Jewish Agency Natan Sharansky, and Michael Oren, Israel's former ambassador to the U.S. The trip's co-sponsors include the JNF Project Baseball and Aeder.
Peter Kurz, president of the Israel Baseball Association, is thrilled that Team Israel players will get a first-hand look at the country they will represent in March when they begin play in the WBC in South Korea. The visit also will include a practice at Baptist Village Thursday and the dedication of a new ball field in Beit Shemesh, all in a continuing effort to build on the momentum of popularizing baseball in Israel.
"The team is clearly the most impressive Jewish baseball team ever assembled, and we are very proud that they will be representing our country at the WBC," Kurz said. "The trip will be an excellent opportunity for them to learn about Israel and meet the teams and players in Israel who will be supporting them at the WBC."
The traveling party features former New York Met Ike Davis, Ty Kelly of the New York Mets, Ryan Lavarnway of the Oakland Athletics, Sam Fuld of the Oakland Athletics organization, Josh Zeid of the New York Mets organization, Cody Decker of the Boston Red Sox organization, Jon Moscot of the Cincinnati Reds, Corey Baker of the St. Louis Cardinals organization, Jeremy Bleich of the Philadelphia Phillies organization, and Gabe Kapler, Los Angeles Dodgers Director of Player Development. The players will visit Israel with their wives, parents and children.
"Kapler is so excited to bring his two sons to Israel," Aeder said.

Joining the players on the trip will be journalist Jonathan Mayo, who will be producing a documentary on their visit to Israel. See above for Mayo's interview with MLB Network.
Mayo actually approached Aeder about a proposed documentary with the Jewish players going to Israel earlier, but logistic issues prevented it from going forward at that time. However, Aeder had that in mind when he hosted Ron Dermer, Israel's Ambassador to the United States, for a meal at his Chicago-based kosher restaurant, Milt's Barbeque for the Perplexed.
It turns out Dermer, who was raised in Miami, is a big baseball fan. Aeder said Dermer loved the idea of Team Israel players making the trek to the Mideast. He connected Aeder with a big supporter of Israel from Las Vegas who offered his private plane for the trip.
With that important piece in place, invites were sent to Jewish players. There were several more players wanted to make the trip, but couldn't work it into their schedules.
Aeder, though, is pleased with the number of players who will be part of the travel party. He believes it will be a trip that will give the players greater meaning when they put on their Team Israel uniforms in March.
"It will give them a greater understanding of their heritage," Aeder said. "This is a tremendous opportunity for Israel baseball and for these players."