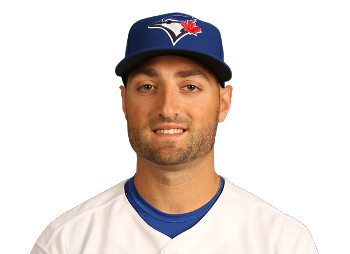 Who's the best Jewish player in baseball in 2016?
As an avid Fantasy Baseball player, I had my eyes set on drafting a Jewish player. I was all set to select Ian Kinsler, a perennial offensive standout at second base, but he went a pick before I could grab him.
Then I targeted Danny Valencia, who could be a solid under-the-radar guy for Oakland. Once again, right before I could put him on my roster, someone undercut me.
Alas, I am going to have to rely on a bunch of goys for my team. Probably just as well for the Jewish guys since I have a history of dooming players I pick to either horrible seasons and/or devastating injuries.
However, my opponents will benefit from the Jewish players they selected. There are some good players in this bunch.
Our JewishBaseballMuseum.com contributor Hillel Kuttler did a piece for the Jerusalem Post looking at the Jewish players in MLB this year. The story makes the case that Toronto's Kevin Pillar could be the best Jew in the game.
It got me thinking about who is the top Jewish star? Here are my rankings:
Ian Kinsler: The Detroit second-baseman now is 33 and has his lost a few steps. He only had 10 stolen bases last year. But the 4-time All-Star still remains as consistent as they come in MLB. Last year, he hit .296 (.342 on-base percentage) with 11 homers, 73 RBIs and 94 runs scored. He also had a big spring with 5 homers and 18 RBIs, an indication he might have a power surge this year. Hitting at the top of a strong Tigers lineup, count on Kinsler to have another solid season.
Kevin Pillar: The Toronto outfielder had a breakout season in 2015. He hit .278 with 12 homers and 56 RBIs in 159 games. He also showed some speed with 25 stolen bases. Plus, he is one of the best outfielders in the game and should be a Gold Glove candidate this year. Pillar still needs to work on drawing more walks; he only had 28 in 628 plate appearances. However, hitting in that loaded Blue Jays lineup, Pillar has a chance to take it to another level in 2016. It wouldn't be a surprise if he is on top of this list sooner than later.
Ryan Braun: Even though he made the All-Star team for the sixth time in 2015,  he clearly isn't the player he was a few years ago. Braun hit .285 with 25 homers and 85 RBIs, a far cry from 2012, when he was NL MVP runners with 41 homers and 112 RBIs. Off-season back surgery also poses some questions for the 32-year-old outfielder. It certainly looks like Braun's best days are behind him.
Joc Pederson: It was a tale of two halves for Pederson in his rookie season in 2015. He hit 20 homers before the All-Star break, earning a start in centerfield for the All-Star Game. Then Pederson completely fell apart the rest of the year. He wound up with 26 homers, hitting only .210 with 170 strikeouts. Clearly, Pederson has big-time talent. However, can he make the adjustments to make more consistent contact at the plate? A Los Angeles Times story on Pederson had this assessment from a scout.
"Those hot-zones things that they were putting on ESPN's 'Baseball Tonight' when he was hitting all those home runs? The other pitchers had those, too," one National League evaluator said. "And they stopped throwing it there, and he got himself out a little more often."
It will be interesting to see if Pederson gets back on track in 2016. He got off to a good start with two doubles in the Dodgers' season-opening victory over San Diego.
Danny Valencia: He has bounced around a bit, playing for five teams since his debut in 2010. Valencia could be in demand again coming off a nice season in 2015. Playing for Toronto and Oakland, he hit .290 with 18 homers and 66 RBIs in 105 games. Valencia, 31, was Oakland's starting third-baseman for the opener. However, with the A's expected to be a lower-tier team this year, don't be surprised if Valencia gets shopped around to some contenders in July.
Scott Feldman: He opens as the fourth starter for Houston. Injuries limited him to only 18 starts in 2015. Still, he was a respectable 5-5 with a 3.90 ERA. The Astros will be counting on Feldman to eat some important innings as they make another run to the post-season.
Sam Fuld: At 34, the Oakland outfielder is at the back end of his career. A sore shoulder has him starting the season on the disabled list. When he returns, Fuld will try to improve on a 2015 season when he only hit .197 in 120 games. He did hit .417 in spring training. Hopefully, that's a sign of good things to come.