Year in review: 2017 featured ups and downs for Jewish players; Bregman shines; Ausmus pays price in Detroit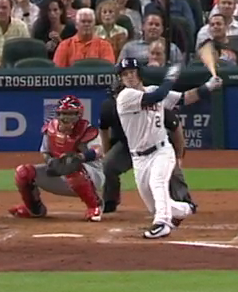 Another regular season is in the books. For some Jewish players and executives, the best part is yet to come with the post-season.
Alex Bregman has his eyes on helping Houston win its first World Series. Meanwhile, there is a significant presence in the front office of several playoff teams: Theo Epstein and Jed Hoyer with the Cubs; Thad Levine with Minnesota; Andrew Friedman and Stan Kasten with the Dodgers;  Mike Chernoff with Cleveland; Randy Levine with the Yankees; and owner Ted Lerner of the Nationals.
So as Epstein and Hoyer did last year, there's a good chance a Jewish exec will be hugging the 2017 World Series trophy. And if the Cubs repeat, it will make Epstein even more of a lock to gain entrance to the Hall of Fame.
On the field, there were some ups and down for Jewish players. All told, 13 Jewish players played in the big leagues, thanks to the debuts of some rookies. However, the Jewish ranks lost its only manager with Brad Ausmus getting the boot in Detroit.
Despite a $200 million payroll, the Tigers imploded with a 64-98 record, tied for the worst in baseball. After taking over for Jim Leyland, Ausmus led Detroit to the AL Central title in 2014. But after being swept in the playoffs, Ausmus never got the Tigers back to the post-season. Detroit decided to go in a different direction after this year's disaster.
Ausmus, though, only is 48, and remains highly regarded. Expect that he will get another shot at manager, perhaps as early as 2018.
As always, thanks to our friends at JewishBaseballNews.com for daily reports on the exploits of Jewish players in the bigs. Subscribe to their newsletter to receive updates in 2018.
Here's a rundown on the players front:
Alex Bregman: Playing in his first full season, he continued to show why he was the No. 2 pick in the 2015 draft. He hit .284 with 19 homers and 71 RBIs for the high-powered Astros attack. He also added 17 stolen bases and had an impressive 4.1 WAR. Only 23, Bregman looks to be a key part of a young, talented Houston team for many years to come.
Ryan Braun: Even though Milwaukee made a nice run at the Cubs, it wasn't the best of years for Braun. Various injuries plagued Braun, limiting him to only 17 homers and 52 RBIs in 104 games. He did have a highlight, becoming the third Jewish player to hit more than 300 homers. Now 33, he will go into 2018 trying to show that the years aren't catching up to him.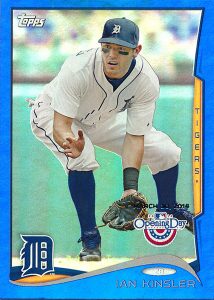 Ian Kinsler: Like Braun, age also might be impacting Kinsler. The Detroit second-baseman hit only .236 with 22 homers and 52 RBIs, a sharp fall from .288/28/83 in 2016. Now 35, Kinsler will try to bounce back in 2018. With Detroit shedding veterans in rebuild mode, it will be interesting to see if he is playing elsewhere next season.
Richard Bleier: Bleier might be the best story of the season. He had to wait until he was 29 to make his Major League debut with the Yankees in 2016. During the off-season, he was traded to Baltimore. In his first full season in the big leagues, he was outstanding, going 2-1 with a 1.99 ERA in 57 games. His control was outstanding, as he only issued 13 walks in 63 innings. It took a while, but the future looks bright for Bleier.
Kevin Pillar: Pillar continues to shine defensively. Hopefully, this will be the year the centerfielder is rewarded with a Gold Glove. With the bat, Pillar displayed some power, hitting 16 homers, up from 7 in 2016. He hit .256 with 42 RBIs and 15 stolen bases.
Joc Pederson: A rough season for the 2015 All-Star got even worse when he was sent to the minors in August. Pederson was recalled in September, but he isn't expected to be on the Dodgers' post-season roster. He hit only .212 in 11 homers and 35 homers in 102 games.
Danny Valencia: The veteran had a decent year in Seattle. In 130 games, he hit .256 with 15 homers and 66 RBIs.
Scott Feldman: The 34-year old veteran was the opening day starter for the Reds. He went 7-7 with a 4.77 ERA in 21 starts for a team that is rebuilding. He hurt his knee, and eventually needed surgery in August. Hopefully, he will make a complete recovery and will be pitching in 2018.
Craig Breslow: The veteran reliever split time with Minnesota and Cleveland. He went 1-1 with a 5.07 ERA in 39 games. The lefty is considered to be on the bubble for a spot on Cleveland's post-season roster.
Ryan Lavarnway: After playing for Team Israel in the World Baseball Classic, the veteran catcher worked his way back to the big leagues for the first time since 2015. He hit .273 in 6 games with Oakland.
Ryan Sherriff: At age 27, Sherriff finally made it to the big leagues. He did a nice job, going 2-1 with a 3.14 ERA in 13 games with St. Louis.
Max Fried: The former 2012 first-round pick of the Padres broke through with Atlanta this year. He went 1-1 with a 3.81 ERA in 9 games. Fried knows his Jewish roots. In high school, he wore No. 32 as a tribute to Sandy Koufax. He wears No. 61 with the Braves.
Brad Goldberg: With the White Sox dumping a good portion of their bullpen in rebuild mode, Goldberg got his shot in the big leagues. Unfortunately, he struggled, posting a 8.25 ERA in 11 games. Control was his big issues, as he gave up 14 walks in 12 innings. He finished the season at Triple A Charlotte.