Infielder
TEAM: New York Mets, Philadelphia Phillies
Born: July 20, 1988
Kelly was well into his baseball career before he self-identified as Jewish. His father is Catholic and his mother is Jewish, so he had already qualified to play for Team Israel in the 2017 World Baseball Classic. Inspired by a 2016 trip to Israel with about a dozen other Jewish major-league players, Kelly gave the OK to be included on the Jewish baseball roster.
Ty was drafted as an infielder by the Baltimore Orioles in 2009. Playing every position except catcher, he worked his way through the minors with several different organizations until he was promoted by the New York Mets on May 23, 2016. He played 39 games at six different positions and appeared in one more game in 2017 before being claimed off waivers by Toronto. Without appearing in a game with the Blue Jays, he was traded to the Philadelphia Phillies, where he finished the season having played in 69 games. He returned to the Mets in 2018 before signing a free-agent contract with the Los Angels Angels. In 118 major-league games through 2018, Ty batted .203 with three home runs and 21 RBIs.
Ty retired from professional baseball in 2019, but came out of retirement two years later to play for a number of independent league teams. In 2022, he signed a minor-league contract with the Los Angeles Dodgers.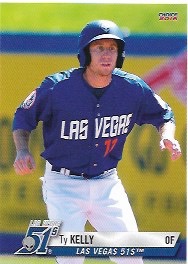 Did You Know?
Through the 2020 season, Kelly was still the last New York Mets player to register a postseason hit (2016).
Related Artifacts
ADD TO OUR COLLECTION!
HAVE AN ARTIFACT & STORY TO ADD?
If you have any Jewish baseball artifacts that you would like to share, or perhaps sell, to the Jewish Baseball Museum, please contact us.
CHECK OUT OUR COLLECTION!
ORDER NOW
ORIGINAL JEWISH BASEBALL PLAYER PAINTINGS