Pitcher
TEAM: Philadelphia Phillies, New York Yankees, Chicago Cubs
Born: April 21, 1902 - April 17, 1973
A native of Philadelphia, and a child prodigy, Weinert made his debut as a pitcher for his hometown Phillies on Sept. 24, 1919, at the tender age of 17. He pitched a total of six seasons for the Phillies, but only saw consistent action during the 1922 and 1923 seasons. He later pitched, briefly, for both the Chicago Cubs and the New York Yankees, although he toiled virtually the remainder of his career in the minor leagues, mostly at AA Louisville. In 1923, Weinert plunked Giants center fielder Casey Stengel with a pitch and then came "high and tight" on him in the next at-bat, prompting Stengel to throw his bat at the mound and give charge at Weinert. Stengel threw a flurry of punches and hurled anti-Semitic epithets during the ensuing melee. He emerged unscathed, but Stengel was escorted off the field by police and suspended for 10 days for "gross misconduct."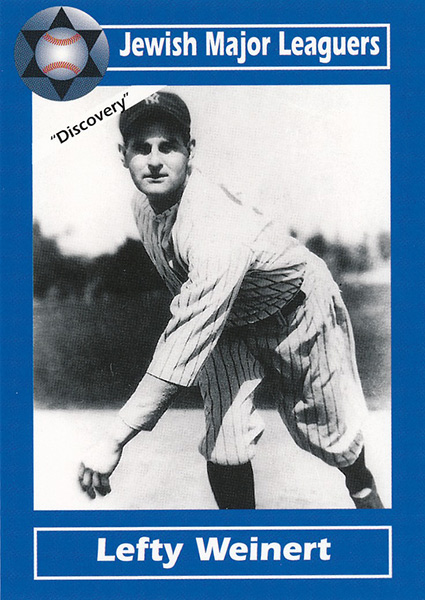 Did You Know?
In 1921, Lefty was suspended by Commissioner Judge Landis for "contract jumping," and he later voluntarily retired in 1929-30 before playing for the Yankees. Weiner was reinstated by Landis in 1922.
Related Artifacts
ADD TO OUR COLLECTION!
HAVE AN ARTIFACT & STORY TO ADD?
If you have any Jewish baseball artifacts that you would like to share, or perhaps sell, to the Jewish Baseball Museum, please contact us.
CHECK OUT OUR COLLECTION!
ORDER NOW
ORIGINAL JEWISH BASEBALL PLAYER PAINTINGS