Outfielder
TEAM: San Francisco Giants, St. Louis Cardinals, Houston Colt .45s
Born: Feb. 19, 1932
A native of New York, Taussig was signed out of Hofstra University by his hometown Yankees and toiled in the minor leagues, bouncing from team to team and traveling across the country for seven years before finally earning a call to join the San Francisco Giants in 1958. An outfielder, Taussig spent a portion of the 1958 season on the big-league roster, but was sent back to the minors and didn't return to the big leagues again until 1961, when he enjoyed a full season in a St. Louis Cardinals uniform. Left unprotected after the season, he was selected by the Houston Colt .45's with the 19th overall pick in the 1962 expansion draft. On April 24, 1962, he exacted his revenge by homering against the Cardinals, putting the Colt .45's on top for good in a 4-3 victory. He failed to last the entire season on the roster, however, and was sent back to the minor leagues.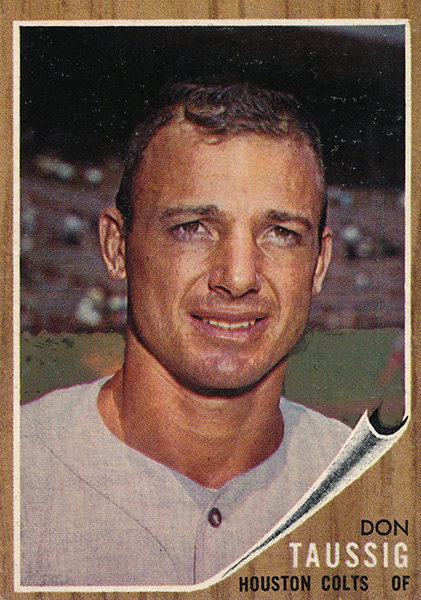 Did You Know?
Don hit 23 home runs and finished fourth in the Pacific Coast League with 101 RBIs while playing for Portland in 1960.
Related Artifacts
ADD TO OUR COLLECTION!
HAVE AN ARTIFACT & STORY TO ADD?
If you have any Jewish baseball artifacts that you would like to share, or perhaps sell, to the Jewish Baseball Museum, please contact us.
CHECK OUT OUR COLLECTION!
ORDER NOW
ORIGINAL JEWISH BASEBALL PLAYER PAINTINGS