First Base
TEAM: New York Mets, Pittsburgh Pirates, Oakland A's, New York Yankees
Born: March 22, 1987
Ike is a son of Ron Davis, who pitched in the major leagues for 11 seasons. His mother, Millie Gollinger, is Jewish. Davis' paternal grandfather was a U.S. Army paratrooper who helped liberate concentration camps, where many of his mother's relatives were murdered. Ike's great-aunt was a Holocaust survivor. As a youngster, Davis was a baseball prodigy. In high school he led his team to three consecutive Arizona state championships as a pitcher/first-baseman, batting .447 and posting a 23-0 record as a pitcher. At Arizona State University he was the first freshman ever to lead the PAC-10 in RBIs, and he became a two-time All-American and three-time All-Pac-10 selection. Davis was selected by the New York Mets with the 18th pick in the 2008 amateur draft. He made his major-league debut in 2010 and still holds the Mets' rookie record for total bases (230), as well as a share of the Mets' rookie records for bases on balls (72) and extra-base hits (53). On July 28, 2012, he hit solo home runs in his first three at-bats against the Arizona Diamondbacks, becoming only the 7th member of the Mets to homer three times in a single game and the sixth Jewish player to accomplish the feat.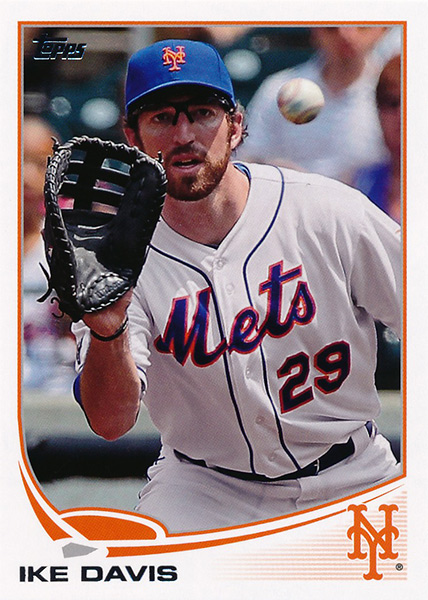 Did You Know?
On April 21, 2015, Davis pitched a perfect eighth inning for Oakland in a blowout loss to the Angels, retiring all three batters he faced, all on ground balls, using only nine pitches.
Related Artifacts
ADD TO OUR COLLECTION!
HAVE AN ARTIFACT & STORY TO ADD?
If you have any Jewish baseball artifacts that you would like to share, or perhaps sell, to the Jewish Baseball Museum, please contact us.
CHECK OUT OUR COLLECTION!
ORDER NOW
ORIGINAL JEWISH BASEBALL PLAYER PAINTINGS