Catcher
TEAM: Los Angeles Dodgers, New York Mets
Born: July 16, 1931 - March 8, 2021
With one suggestion, Norm Sherry changed the course of baseball history. A brother of Larry Sherry, Norm was a catcher who came up through the Dodgers' farm system. He showed his baseball smarts early on. In 1959, when manager Pete Reiser experienced health issues, Norm took over as player-manager of his minor-league team and led it to the pennant. He was brought up to the Dodgers the following year, hitting .283 in 47 games. During the following spring, he had his famous conversation with Sandy Koufax. Prior to a spring training game, he told Koufax, who had been struggling, to take something off his fastball to gain better control. You know the rest of the story. Even though Sherry played only five years in the big leagues, and had a short span as manager of the California Angels in 1976-77, Norm always will be remembered as the man who unleashed the potential of the greatest pitcher of all time.
Here's SABR's biography of Sherry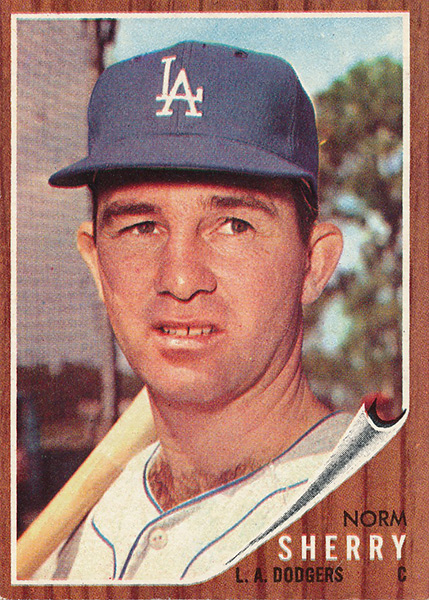 Did You Know?
Norm was the catcher in only 19 of Sandy Koufax's 314 career starts. Johnny Roseboro (208), Jeff Torborg (21), Doug Camilli (20), Roy Campanella (18), Joe Pignatano (18) and Rube Walker (10) were the others.
ORDER NOW
ORIGINAL JEWISH BASEBALL PLAYER PAINTINGS