Cubs letter to young fan in 1954: Team has nothing against signing Jewish players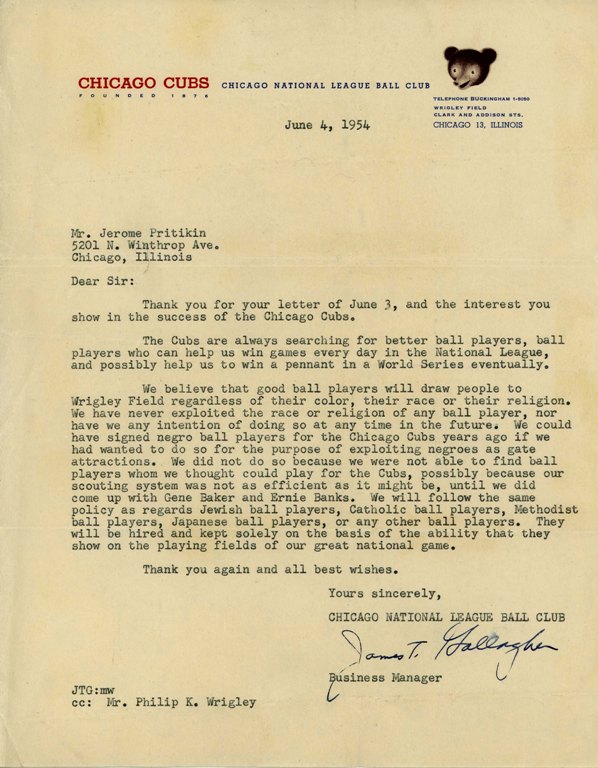 In 1954, a young Jerry Pritikin, who would go on to become the famous "Bleacher Preacher" in Wrigley Field (see the JBM Q/A), wrote a letter to the Cubs. He received an interesting response.
Pritikin:
"Well, we were always looking for the baseball Jewish messiah; and Greenberg, of course, was the closest thing when I was a kid. But there were always rumors that the Cubs were anti-Semitic; my father used to tell me about Johnny Kling, who was a catcher for the Cubs. He would say, "The Cubs have always been anti-Semitic; most people didn't realize that Johnny Kling was Jewish — and that's the only one they ever had." [Note: Johnny Kling's Jewishness is still being debated, over a century after his retirement. He is not included on the JBM's roster of Jewish players.]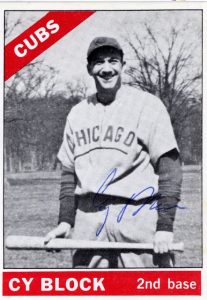 "In the 1940s, the Cubs did have a Jewish ballplayer named Cy Block, but nothing ever really happened with him. I got to meet him many years later at an Old Timers' Game, and I asked him if he thought the Cubs were anti-Semitic. He said they were quite the opposite. He was very thankful the Cubs gave him the opportunity to come up for several cups of coffee over three years; he said he loved playing baseball and would have played even if he didn't get paid, and did not find any reason to believe that Wrigley was anti-Semitic. Though he never became a regular player, he did become a very successful insurance salesman.
"In retrospect, it's pretty interesting that they wrote, "We would even sign Japanese players" in the letter they sent back to me. Who would have thought at the time that there would be Japanese players in the major leagues? And for them to admit that their scouting might not be the greatest — because the fact is, it wasn't!"