Israel baseball team in Olympics? That's the goal, says association president
TEL AVIV—If you thought Israel's strong showing in the 2017 World Baseball Classic was unexpected, how about seeing an Israeli baseball team in the 2020 Summer Olympics in Toyko?
"It would be incredible," said Peter Kurz, president of the Israel Baseball Association. "It would be a bigger hit in Israel than the WBC."
Kurz is serious about constructing an Israeli baseball team that will be ready to compete in Olympic qualifying rounds in Europe in the fall of 2019. The roster would include several American professional players who intend to make Aliyah this fall; all players must have an Israeli passport to compete in the Olympics.
It definitely isn't as much of a pipedream now. Certainly, nobody doubts Kurz can pull it off given what Israel did in the WBC.
More than a year later, Kurz is working to channel the momentum from the surprising sixth-place finish to further growing the game in Israel. Heading Home, the new documentary about the WBC team, also has grown awareness, adding to the positive vibe.
In early July, I had a chance to meet with Kurz in Tel Aviv. Outgoing with an infectious personality, it is easy to get caught up in his optimism for the potential for the sport in the Promised Land.
Since Kurz, who works with Israeli companies in the export business, does not get paid for his role as president, it is all about his passion for baseball and Israel. That is evident in our Q/A.
*****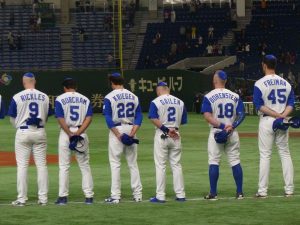 You're thinking big again. What are the prospects for Israel to compete in baseball in the OIympics?
Kurz: The Israel Olympic Committee is very interested in building an Israeli baseball team. This would be the first time Israel has a team sport in the Olympics since 1968 with soccer.
Baseball is coming back to the Olympics in 2020 in the Toyko Dome. I wouldn't mind going back again (Israel played there in the 2017 WBC). There are going to be six teams, including the best European team. We would qualify out of Europe in the fall of 2019.
Our goal is to put together a national team of nationals. It's not like the WBC. You need an Israeli passport to compete for Israel in the Olympics.
First of all, we've got our own Israelis who are developing, getting better and better. The second thing is that there are three Israeli players who have contacted me about playing. They are Americans, but their parents have Israeli passports. For example, there are two brothers in California. Both of them played rookie ball; one played A ball. They left baseball last year. Another junior college player in Atlanta who also has an Israeli passport wants to play.
In addition, I've got pitchers from the WBC team who are getting Israeli passports: Jon Moscot, Zach Weiss, Corey Baker. They are making Aliyah. I'm hoping by October, they will have Israeli passports. They're going to be Israeli.
So I've got a pool of about 8 or 9 players who are eventually going to have Israeli passports.
Before the Olympics seemed like a pipe dream. Now after the WBC, it seems possible.
Exactly. The European teams are very worried about us. Believe me, they're also nationalizing a lot of people. Countries are recruiting players to be on their team. It's big for a lot of people to get back into the Olympics. It's huge.
When we had the showings of the film, Margo Sugarman (Secretary General for the IBA) always introduces me by saying, "Peter always had this vision play in the WBC. Nobody else believed him. We came in sixth place."
Now, I also have this vision of bringing Israel to the Olympics. It would be incredible. It would have a bigger hit in Israel than the WBC. One of the criticisms of the WBC in Israel is that these guys weren't Israeli. Well, the Olympic players would be Israeli.
There definitely is a huge positive vibe following the WBC. What kind of reaction did you get in the weeks and months after the tournament?
It was incredible. I've been doing fund-raisers for the last year or so to raise money for the fields, and everyone wants to hear the story of the WBC. Then the movie came out. And that raised the awareness again.
I've seen the movie five or six times. We had three screenings here, and they all sold out.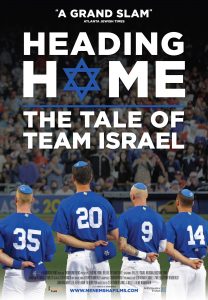 How did you feel about seeing yourself on the big screen?
It was pretty good. It was nice that others also could see me. Until my son got involved, my wife really didn't care that much about baseball. She still has no idea what the rules are. I also brought my two daughters to the screening. They also aren't that involved, but when they saw Dad on the screen, it was like, 'Wow, you're definitely big.'
How would you assess the impact of Israel's great showing on growing the game here?
We're up from 850 to 950 players. What I have noticed is that the quality is much better. We have an enrichment program where kids can come out. The kids play once or twice a week with their local teams. Then they come out to our enrichment program. We have double the amount of kids who were in the enrichment program than last year. That's really good. Because of that, we were able to send three national teams overseas to the Pony tournament to Prague in April. The under-16 team reached fifth place out of 20 teams, the best showing they've ever had.
The kids want to invest more time into it. Up until a few years ago, baseball was just a place where the parents can drop their kids off once a week for a couple hours. Today, the kids are seeing it as a place where they can come three or four times a week, and they can work to get better. We're seeing more 15, 16, 17-year old kids still involved in baseball.
The problem with us is when you're 18, you go into the army. So these kids are cut off for three years. A lot of them come back at the age of 21, 22. One of our guys wants to play at a junior college in California. However, he's 21-years old playing 18 year-olds. So he doesn't have much a chance of being a professional player. But he will be playing in college, and that's nice.
We had players like Andruw Jones and Robinson Cano visit. None of these kids were even born when Jones was playing baseball, but they came out to see him. He was great. He went to various stations telling them what to do.
Things are getting better. It's growing. As you know, we are looking to build two fields. We're doing fund-raising. We're hoping with Beit Shemesh to be able to break ground this year.
There's no doubt if we have more fields, more kids will come out. More kids will play. With more kids playing all over Israel, baseball becomes a bigger thing.
Are you seeing a higher awareness level when you mention baseball now?
Oh yeah. Definitely, Israelis have more awareness. A year ago, they would have said, "Baseball what's that?" Now, they say, "Oh yeah, I remember you were in the WBC."
So where do we go from here?
One is to build the fields and then to make this Olympic showing. Then in 2021, there's the WBC. This coming spring training, I want to go to the United States and meet with a couple of guys and get their commitments to play in the WBC for Israel two years out. If I can get Alex Bregman, Joc Pederson, Kevin Pillar to commit to playing for Team Israel, that could be a quite an achievement.
We're automatically the second seed wherever we are. We finished in sixth place. I already asked to be in the United States. The U.S. will be the No. 1 seed and we'll be No. 2. That would make it easier to get players like Bregman and the others. Hopefully, one guy will bring another guy, and so on.
What's the ultimate for baseball in Israel?
The ultimate would be getting a Gold medal in the Olympics and winning the WBC (Laughs).
Listen, our goal is to reach 2,500 players in Israel. We're at almost 1,000 now. If I can reach 2,500 players in the next couple of years, that would be a real stamp of approval. And hopefully, we can do it with new fields.
I was at our camp today. We have two camps; 2 weeks in July; 2 weeks in August. We had about 70 kids out there today. That's been a great success as well.
I also want to bring professional baseball back to Israel. Whenever I can do that. And I want us to continue to do well in International baseball.
I believe it's like a triangle. You've got to make sure the base is wide as possible with the 7 and 8-year olds coming out there. Then the top level has to pull everyone up.
We want to keep on expanding and growing. That's the most important thing.