Pitcher
TEAM: Los Angeles Dodgers, Detroit Tigers, Houston Astros, California Angels
Born: July 25, 1935 - Dec. 17, 2006
Sandy Koufax wasn't the first Jewish pitcher to win the World Series MVP Award for the Dodgers. That distinction goes to Larry Sherry. However, as a youngster, Sherry seemed a highly unlikely candidate to pitch anywhere, let alone in a World Series game. Born with two club feet, he wore braces on his legs until he was 12. Finally unencumbered, he quickly showed his athletic prowess. The Dodgers signed him in 1953 at the age of 18. After pitching 5 games in 1958, he burst on to the scene with the Dodgers in 1959. Only 23, he compiled a 2.19 ERA in 23 games. Then he saved his best for the World Series against the White Sox. He completed all four of the Dodgers victories with a stellar 0.71 ERA in 12 2/3s innings. As if that wasn't enough, he also had 2 hits in 4 at bats. The showing earned him World Series MVP honors. Another high point for Sherry occurred on May 7, 1960, when he teamed with his brother Norm, a catcher, to form the only Jewish brother battery in MLB history. Larry got the victory and Norm hit a homer. Sherry wound up recording 53 wins and 83 saves in an 11-year career.
Here's SABR's biography of Sherry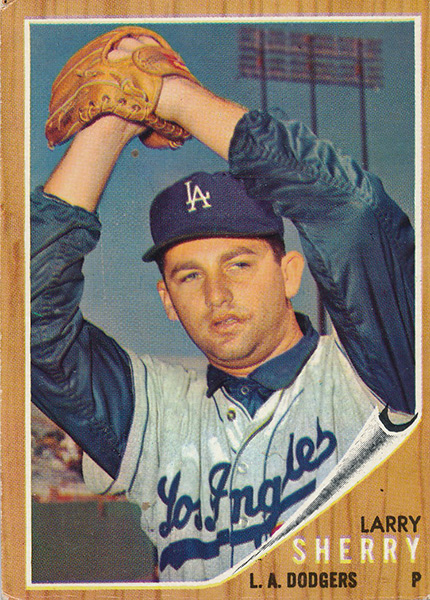 Did You Know?
Sherry won 14 games as a reliever for the Dodgers in 1960.
ORDER NOW
ORIGINAL JEWISH BASEBALL PLAYER PAINTINGS