50 years ago: Koufax vs. Holtzman in greatest match-up of Jewish pitchers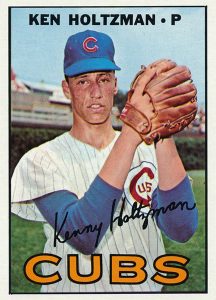 I was in Wrigley Field on Sept. 25, 1966. It was my seventh birthday.
But I remember next to nothing about the game. That is a shame because it was the greatest match-up ever between two Jewish pitchers.
The Chicago Tribune was kind enough to give me a full page in a recent Sunday edition to tell the story about a truly memorable game. Here are some excerpts. Also, check out the Tribune's online version for some the complete story and some classic photos.
*****
Koufax was the big draw, with 21,659 fans coming to see him on that Sunday. That was a big crowd for the last-place Cubs, considering they drew only 530 fans for Holtzman's previous start earlier that week.
Yet the game is worth reconstructing 50 years later because Holtzman, not Koufax, carried a no-hit bid into the ninth inning.
Koufax, who was just 30, was in the midst of a legendary run that often is labeled as the standard of excellence for pitchers. After finally mastering command of his fastball and knee-buckling curve, he was virtually unhittable during a six-year span in which he won three Cy Young Awards.
Koufax also became a cultural icon for declining to pitch Game 1 of the 1965 World Series. The opener fell on Yom Kippur, the holiest day of the year for Jews. Even though Koufax wasn't religious, he wanted to respect the holiday. His gesture continues to be cited by Jews every year as a symbol of putting faith above everything else, including the World Series.
As it happened, Koufax and Holtzman both were scheduled to meet the day before their 1966 matchup, but again it was Yom Kippur. Like Koufax, Holtzman told his manager, Leo Durocher, he would be in synagogue on that day.
"I keep the holy days," Holtzman said.
The fact that both pitchers were Jewish wasn't lost on the sportswriters covering the game. Tribune columnist David Condon quoted an unnamed player: "Telstar (a communications satellite) must have carried this Holtzman-Koufax duel to a million people in Israel."
*****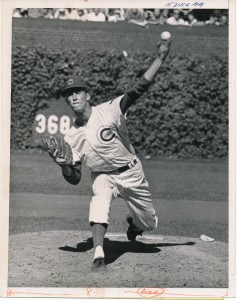 After retiring the first six Dodgers, Holtzman issued a walk to Dick Schofield to open the third. But he was quickly eliminated when John Roseboro hit into a double play.
Holtzman wouldn't allow another Dodger baserunner until the ninth. According to Condon's Tribune column, Holtzman didn't realize he had a no-hitter going until he heard a fan's comment in the eighth. He said he only knew "I was winning my first start against Koufax."
The Wrigley crowd gave Holtzman a big ovation as he took the mound in the ninth inning. However, his bid for his first no-hitter (he had two in his career) would have to wait for another day. Schofield led off with a single that bounced over Holtzman's head into center field.
Suddenly, it became about winning the game for Holtzman. A walk and Maury Wills' RBI single cut the Cubs lead to 2-1. Durocher, though, stuck with his young pitcher. With one out, Holtzman got Willie Davis to line into a double play to end the game.
******
In an interview that recently appeared at www.JewishBaseballMuseum.com, Holtzman said, "I take pride in being the last National League pitcher to beat Sandy and it remains a very special moment of my career."
Holtzman recalled that while his parents attended the game, his mother never saw a pitch. She was too nervous and paced around the park.
At age 7, I likely was distracted by too many other things to focus on the game. That's too bad, because Jacqueline Holtzman and I missed out on a terrific day in Jewish sports history.