Cooperstown bound: Theo Epstein now is headed Hall of Fame with Cubs title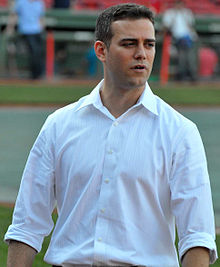 Update: 
Now it is done. The unthinkable has happened.
The Cubs have won the World Series!
Note the reply I got to this tweet:

Indeed, the achievement is ramping up a sentiment we wrote three weeks ago: Theo Epstein just stamped his ticket to the Hall of the Fame.
The headline for the New York Post's Ken Davidoff column read: "Next stop for Theo Epstein: Cooperstown."
There are a select few people who have been alive for all three of the Cubs' World Series titles, just to add some perspective. But no one has ever witnessed the sports double-whammy that Epstein now has on his résumé. Before building up these Cubs to end the myriad curses and jinxes, he ran the Red Sox team that slayed its ghosts in 2004, ending an 85-year drought.

Remarkable. It would have been unfathomable to anyone, say, 15 years ago that one person could check both of those colossal boxes.
Dieter Kurtenbach of FoxSports.com writes:
Let this sit with you for a moment: Epstein has now taken the two most suffering franchises in professional sports to long-sought World Series championships.

To do it once is an incredible feat (ignore that Epstein won two in Boston and deserves credit for a third) but to then take on an even tougher challenge and succeed is astounding.

Epstein is 42 years old and as of Wednesday — and perhaps even before then, if we're being fair — he could start to write his Baseball Hall of Fame speech. He's guaranteed a spot in Cooperstown.

You can't deny the greatest general manager in baseball history a spot in the Hall, after all.
Below is my column written during the NLCS. Just take out all the ifs and whens because it happened.
******
It is not a matter of if the Cubs win the World Series, it will seal Theo Epstein's place in Cooperstown. It is when.
The Cubs are going to win the World Series at some point in the next few years. And probably more than one. Just so nobody makes any accusations about favoritism for the Cubs, this is the view of a die-hard and envious White Sox fan.
Cubs fans obviously would prefer that the magic moment occur in a couple of weeks. But if it doesn't, please don't retreat back to talking about Bartman and black cats. Unlike those other teams, this isn't an all-or-nothing situation. The Cubs have the best young core in baseball. They are going to dominate for a long, long time.
And when the champagne flows in the Cubs locker room, the toasts to Epstein will inevitably talk about him being a future Hall of Famer. When he goes in, he will join fellow Jewish enshrines, Sandy Koufax, Hank Greenberg and Barney Dreyfus, the Pittsburgh Pirates owner who had a huge impact on baseball in the early 1900s. Also, hopefully long-time commissioner Bud Selig soon will have his day in Cooperstown.
In fact, the Hall chatter already is happening. In a profile of Epstein in the Washington Post, catcher David Ross made this prediction:
"He's going to be a Hall of Famer, if he's not already," said veteran catcher David Ross, who played on one of Epstein's teams in Boston and is entering his second season with Epstein's Cubs. "When this team wins it all, he's going to the Hall of Fame."
Indeed, Epstein's credentials speak for themselves. He was the general manager of the Boston Red Sox when they finally blew up the "Curse of the Bambino" in winning the World Series in 2004, and then again in 2007.
When the Cubs reach their promised land, Epstein will be the architect of the team that eliminated the "Curse of the Billy Goat." See you later, stupid goat.
Theo Epstein: Curse Buster.
If ending the long title droughts of two of baseball's most celebrated franchises isn't worthy of Cooperstown, what is?
However, keep in mind the Hall hasn't exactly opened its doors to general managers. Incredibly, there are only five individuals enshrined who fall under the category of a GM: Branch Rickey, Larry MacPhail, Ed Barrow, George Weiss, and Pat Gillick.
Only Gillick, builder of Toronto's two World Series team in the 90s, is of recent vintage, as in the last 50 years.
Clearly, though, there should be more GMs represented. The difference between success and failure often lies with the guy acquiring the right pieces to put together the puzzle.
Epstein is baseball's ultimate puzzle-solver. What he has done is nothing short of remarkable.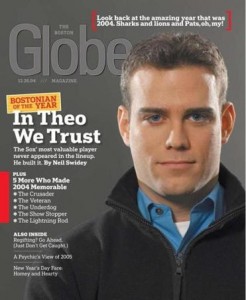 When Epstein became the game's youngest GM of the Red Sox at the age of 28, he inherited a solid team that was on the verge of winning a title. Epstein, though, made the moves that got them over the top.
Epstein fired manager Grady Little and hired Terry Francona. Then he picked up a discarded left-handed hitter from the Minnesota Twins. You might have heard of him: David Ortiz.
Epstein's fingerprints could be seen even more on the 2007 World Series winner. He fortified those Red Sox with homegrown stars like Dustin Pedroia and Jonathan Papelbon.
Even though Epstein departed the Red Sox in 2011, his impact still is felt in Boston. Mookie Betts, Xander Bogearts, Jackie Bradley Jr. were selected under his watch.
Epstein hardly took over a powerhouse when he quickly made his way to Chicago in 2011. The Cubs were terrible and the farm system was painfully thin.
Epstein and right-hand man Jed Hoyer (who also is Jewish) immediately went to work.
Now hear me out, because this is a little bit of a contrarian view. However, while everyone talks about the Cubs being grown from within, their current success mainly is the result of great trades and free agent acquisitions.
Here is the rundown:
–Anthony Rizzo in a trade for Andrew Cashner. What were you thinking San Diego?
–Addison Russell, acquired in a deal with Oakland for Jeff Smardizja (the same guy who lasted two innings in Game 2 of the Giants series) and Jason Hammel. A's GM and "Moneyball" genius got completely fleeced by Epstein and Hoyer.
–Ben Zobrist, Jason Heyward and Ross were free agents. Dexter Fowler first was a trade who re-signed as a free agent.
Let's look at the pitching staff:
–Lester, Lackey and Hammel were signed as free agents.
–Jake Arrieta was acquired from Baltimore in a deal for Jewish pitcher Scott Feldman. It might go down as the greatest Cubs deal of all time, making everyone forget about the infamous Brock deal.
–Epstein got Kyle Hendricks as part of a trade sending Ryan Dempster to Texas. Are you kidding?
–The bullpen was built through trades and free agents, including the pick-up of Aroldis Chapman from the Yankees.
Do you get the drift?
Now granted selecting Kris Bryant with the No. 2 pick in the 2013 draft was a master stroke. Many thanks to Houston for passing on this year's likely NL MVP.
And the Cubs also have dynamic young players in Javier Baez, Wilson Conteras and Kyle Schwarber.
But with the exception of Bryant, the Cubs still were excellent before those young players started to make their mark.
Regardless of how it is labeled, Epstein has made the right moves every step of the way. And that includes swooping in to grab manager Joe Maddon when he suddenly became available a couple of years ago. Maddon might have been the final piece.
If the Cubs win multiple World Series, there will be talk of Maddon (who was excellent in Tampa Bay) deserving a spot in Cooperstown. Managers are far more represented in the Hall.
Everyone, though, knows the real reason for the Cubs success. Epstein's supporters will be able to make a compelling argument to the Hall of Fame voters.
Epstein only is 42. His career is long way from being over.
But at some point, maybe 25-30 years from now, Sandy, Hank, Barney and hopefully Bud will be welcoming another Jew, Theo Epstein, to the Hall of Fame.