True Hero: Of all Jewish players, hard to top what Sy Rosenthal did off field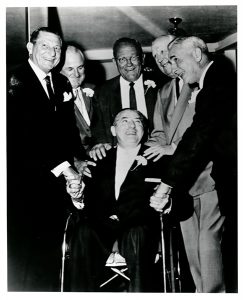 If you don't know about Sy Rosenthal, then you don't know about the complete story of Jews in baseball.
Most baseball fans are aware of the many inspirational stories produced by Jewish players in the big leagues.
Naturally, the most well-known tales focus on the two biggest stars. Hank Greenberg bravely overcame rampant Antisemitism in becoming a Jewish icon with his Hall of Fame talents in Detroit. Sandy Koufax taught everyone a lesson in priorities by famously declining to pitch the opening game of the 1965 World Series to observe Yom Kippur.
However, there is another Jewish player everyone should know about, especially as Memorial Day nears. Let's put it this way: Sy Rosenthal is the true Sandy Koufax-Hank Greenberg of inspirational stories when it comes to Jews and baseball.
Unlike Greenberg and Koufax, Rosenthal did not have a memorable baseball career. He played only 123 games in two seasons with the Boston Red Sox in 1925-26.
No, it is what Rosenthal did long after his playing days were over that makes his story so notable.
The short version: He had corrective knee surgery so he could enlist in World War II at the age of 38. The war took a terrible toll on Rosenthal. His son, Buddy, was killed in action in the Pacific. Shortly after learning of the horrific news, Rosenthal, a mine-sweeper, was left as a paraplegic after a German mine blew up his ship.
Most people would have wallowed in despair in the face of such tragedy. Not Rosenthal. From his seat in a wheelchair, he went on to dedicate his life to numerous charitable causes, including an effort to assist an African-American priest in raising money for a gymnasium in rural Mississippi during the racially-divided '60s.
It was said of Rosenthal, "He is just miserable when he is not doing good for his fellow man."
The long version of Rosenthal's story definitely is worth a read:
The Player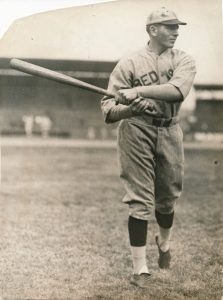 Born in 1903 to an Orthodox family, Simon "Sy" Rosenthal became one of the few Boston natives to play for the Red Sox. Extremely athletic, he got the most out of his 5-foot-9-inch, 165-pound frame. The outfielder was eventually called up at the end of the 1925 season, recording a single in his first at bat.
In 1926, his only full season in the big leagues, Rosenthal hit a respectable .267 with 4 homers and 34 RBIs in 104 games. On May 25, he hit homers in both games of a doubleheader against the Yankees.
Still, it wasn't enough to keep him with the Red Sox, as Boston released him at the end of the season. Rosenthal, though, continued to play, spending nine more seasons in the minor leagues. He eventually retired in 1935 and headed back to Boston.
However, there was one telling instance during Rosenthal's baseball career that spoke volumes about the man he was. According to The Big Book of Jewish Baseball, Boston scout Hugh Duffy made a request of Rosenthal.
"Duffy wanted me to change my name to Rose because it would fit easier in box scores," Rosenthal said. "But I told him that I wouldn't do it. I was born with the name Rosenthal. It won't make any difference if my name is Rose, Rosenthal, or O'Brien. I'll rise and fall on my own name."
The Soldier
Rosenthal and his son wanted to serve when World War II broke out. Only 17, Buddy eventually joined the Marines.
Sy, meanwhile, had other issues besides being 38. He initially was rejected because of knee problems dating back to his baseball days. That didn't stop Sy, as he underwent surgery to fix his knee. On Sept. 22, 1942, Rosenthal was inducted into the Navy.
Sy had been corresponding regularly with Buddy. However, in 1944, he got worried when a stack of letters to Buddy were returned to him.
Sy soon learned that his son was killed on Christmas day in 1943 during a battle on an island in the Pacific.
"They went through some tall grass …and, as they went along, they couldn't locate (the Japanese troops)," Rosenthal explained later. "Finally, as a means of spotting (them), my boy deliberately exposed himself for an instant. The instant was too long. A second later he was dead."
Rosenthal, meanwhile, was serving on the minesweeper USS Miantonomah. His life changed forever on September 25, 1944, when a German mine blew a hole in the ship's starboard side, just behind the bridge. The ship sank just one mile off the coast of France at Le Havre, taking 58 members of the crew with it.
Rosenthal recalled what happened:
"There was an explosion and I was pirouetting through the air. Then I was in the water. I couldn't swim, but my life-jacket was holding me up. Soon I felt a terrific heaviness from the waist down.
"After a while, I could see our chief pharmacist swimming over towards me. He grabbed me and pulled me over to a life-raft. He got me on it somehow, and I sort of half-landed, half-rolled onto a couple of other men."
The damage was considerable. Rosenthal was rendered paraplegic, and returned home after three months in a French hospital. He used a wheelchair for the rest of his life.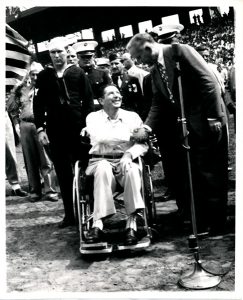 On September 13, 1947, the Red Sox came to the aid of their former player, holding a day in his honor. The money raised enabled the Rosenthal Day committee to present him a deed for a new house specially fitted with wheelchair ramps and other fixtures.
It was an emotional day. Sy and his wife visited the Red Sox clubhouse and he had tears in his eyes when a bugler played "Taps" during the pregame ceremony.
However, once again, Rosenthal produced a telling quote on that day about his approach to life.
"As you get older, you go through life philosophically," Rosenthal said. "The two kids beside me on that ship were blown to bits. I've still got my friends. Come on, let's get out to the field. I feel great."
The Humanitarian
If how you overcome adversity defines a person, then Rosenthal is in a very elite class. Not only did he persevere through unthinkable tragedies to lead a robust life, he impacted the lives of countless people by exemplifying the meaning of Tzedakah.
A story in the Jewish Advocate reported that "there is barely an hour when he is free from pain" but that didn't stop him from working tirelessly to help others. The story detailed the help he had given a boy afflicted with polio, a girl who was blind, and two sisters stricken with cerebral palsy. All three cases led to his involvement in fundraising for the respective causes.
Rosenthal came to the aid of his fellow WWII soldiers, who like him suffered life-changing ailments.  He was a three-time president of the New England Chapter of Paralyzed Veterans of America.
Of course, given his days with the Red Sox, there was baseball. Rosenthal was active in assisting a number of Little League teams in the Greater Boston area.  Sy Rosenthal Little League Stadium was erected in Dorchester, Mass.
His charitable works drew the attention in high places.  In 1960, Boston Mayor John Collins declared "Sy Rosenthal Day."  He was honored at a "Big Leaguer All the Way" testimonial dinner. More than 500 people attended, including Yankees manager Casey Stengel and Boston manager Billy Jurges. Al Schacht, "the Clown Prince of Baseball," was the master of ceremonies.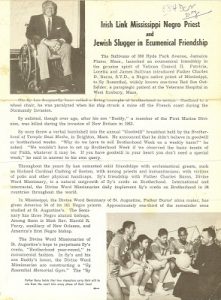 In the mid-1960s, Rosenthal met Rev. Charles D. Burns. Burns, an African-American, needed assistance in raising funds for a school gymnasium at St. Augustine Seminary at Bay St. Louis, Mississippi. It was the first Roman Catholic seminary to accept African Americans in the 1920s.
Never one to pass up a noble cause, Rosenthal threw himself into the effort. According a church brochure, he said, "Mercy. Talk about the Ecumenical spirit—the true spirit of brotherhood is action—this is it! Now we must roll up our sleeves and see what we can do about it."
At the end of the day, he helped deliver $55,000 of the $120,000 cost for the gym; Rosenthal personally contributed $5,000. When it opened in 1967, Burns and the seminary paid tribute by dedicating the gym in Rosenthal's honor.
Keep in mind this was in the 60s when racial and religious tolerance weren't prevalent in the South. So it is quite remarkable that an African-American priest from Mississippi teamed with a Jew from Boston to complete this project. It speaks volumes of Rosenthal's dedication to service.
Rosenthal touched so many people. That showed in a terrific piece Jim Sullivan wrote in 2008 about Rosenthal on his blog, Suldog. Sullivan's family knew Rosenthal. In the comments section, Rosenthal's nephew Burt Remis wrote: "Sy was a great story teller and could tell great jokes even though he was in constant pain."
Another person wrote in saying, "Growing up in Dorchester, we were fortunate enough to receive financial support from Sy to start and maintain the Sy Rosenthal Boys Club at the local Jewish Community Center. The values and friendships I found there have lasted a lifetime. We visited Sy at the Veterans Hospital a number of times and always came away inspired by his humility and motivated by the pride he voiced in the little things we had accomplished in his name."
Towards the end of Rosenthal's life, there was some thought his story might be worthy of a Hollywood movie. Boston's Richard Cardinal Cushing praised Rosenthal in a letter on the cardinal's letterhead: "'Old Sy' is a man after my own heart."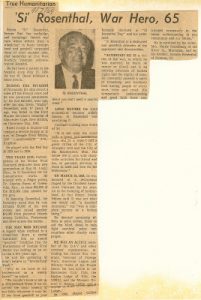 Father Owen McGrath of the Columban Fathers wrote in his letter:
"The tragedies in his life would have embittered most men; they have ennobled Old Sy. He loves God and his fellow man. In spite of his handicap and constant pain, he radiates happiness. He seems to possess heroic fortitude, but in our eyes his greatest quality is generosity of heart. He is just miserable when he is not doing good for his fellow man."
When Rosenthal died on April 6, 1969 at the age of 65, the headline on his obituary labeled him a "War hero" and "True humanitarian."
That he was.
So the next time you think about memorable Jewish baseball players, be sure to recall Sy Rosenthal. His baseball career might not have been extraordinary, but his life was.
*****
Thanks to the following for their research on Rosenthal.
Bill Nowlin, SABR Baseball Project story.
Jim Sullivan, Suldog blog
Gary Bedingfield's Baseball in Wartime site
The Big Book of Jewish Baseball, Peter S. Horvitz, Joachim Horvitz
National Baseball Hall of Fame archives