These Jews can play: Enough with Team Israel narratives about Cinderella, Jamaican bobsled team, miracles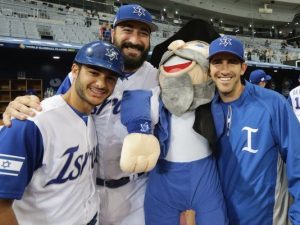 To hear all the reports about Team Israel, you would think their roster was made up of a bunch of Jerusalem and Tel Aviv natives who just got introduced to baseball last week.
Prior to the competition in Seoul, Eddie Matz, a senior writer for ESPN.com, had this ridiculous passage:
If you aren't familiar with Team Israel, it's essentially the Mighty Ducks, Hickory High and the Jamaican bobsled team all rolled into one.
Then Wednesday, Jeff Passan, the fine columnist for Yahoo Sports, picked up on the same theme in weighing in about Team Israel.
There is no Sandy Koufax among this tribe. There might not even be a Moe Berg. Considering invitations were turned down by the best Jewish players in the world – Ryan Braun, Joc Pederson, Ian Kinsler, Kevin Pillar and Alex Bregman would have made for a mighty lineup – one very well could call this the greatest miracle for Jews since the oil burned for eight days.
C'mon Jeff. Beating Chinese Taipei falls quite a bit short of what the Maccabees did.
Those two writers aren't alone. Even in the Israel press, the narrative has been all about the Israelis being the overwhelming underdog. Haaretz labeled them, "Cinderella Israel."
Enough already.
It really shouldn't have been that much of a surprise that Israel won three straight in Seoul, advancing to Toyko Saturday as the No. 1 team in Pool A. While the top Jewish stars elected not to play for Team Israel, the roster still is filled with players with Major League experience:
–Jason Marquis has 124 career victories.
–Sam Fuld is an 8-year veteran outfielder.
–Ty Kelly is an infielder for the Mets.
–Ike Davis hit 32 homers for the Mets in 2012.
–Catcher Ryan Lavarnway has a World Series ring from playing for Boston in 2013.
–Josh Zeid appeared in 48 games with Houston in 2013-14.
Yes, most of these players have seen better days. But power guys like Davis and Nate Freiman showed in Seoul that they still have enough ability to make a pitcher pay for a mistake. Lavarnway was on fire, hitting .556 with a homer and 3 RBIs in being named the MVP of Pool A.
And it wasn't like Israel faced Clayton Kershaw in Seoul. In Wednesday's 4-2 victory over the Netherlands, they jumped out to a 3-0 lead off Rob Cordemans, a 42-year old who plays in Holland.
In Israel's 15-7 victory over Taipei, Chun-Li Kuo didn't make it out of the first inning. The 24-year old had a 8.46 ERA in 12 games in Japan last year.
The offensive display was more expected that miraculous, wouldn't you say?
It is fair to say Israel's pitching has been a surprise, especially in holding the Netherlands to only 5 hits in a 4-2 victory Wednesday. This is a Netherlands lineup that features young stars like Xander Bogaerts, Andrelton Simmons, and Didi Gregorius.
Zeid, though, came up big. He got Gregorius to hit into a bases-loaded double play to quell a rally in the eighth and then pitched a scoreless ninth.
On paper, the Netherlands should have out-slugged Israel. But this isn't football, where the favorite wins the vast majority of the team. Baseball is much more random, and any team is capable of winning on any given day, especially a team that has MLB experience.
"I think that coming into the tournament, a lot of people saw us as huge underdogs, but we never saw it that way," Israel right fielder Zach Borenstein said. "And as far as what it means for Israel, it's huge. It gives more recognition to baseball and hopefully more attention on baseball and Israel."
It is a great story. And it is fun to see all the coverage for Israel's "Mench on the Bench" mascot.
Going forward, Israel indeed will be the underdog in Toyko in a pool that includes Japan, Cuba, and the Netherlands. The level of talent steps up a few notches. Israel faces Cuba Saturday at 10 p.m. ET on MLB Network.
However, if Israel continues its winning ways, spare us the stuff about miracles and the Jamaican bobsled team. It is an insult when you look at the players on this team.
Bottom line: These Jews can play.